Mercedes Sprinter Campervan Conversion Update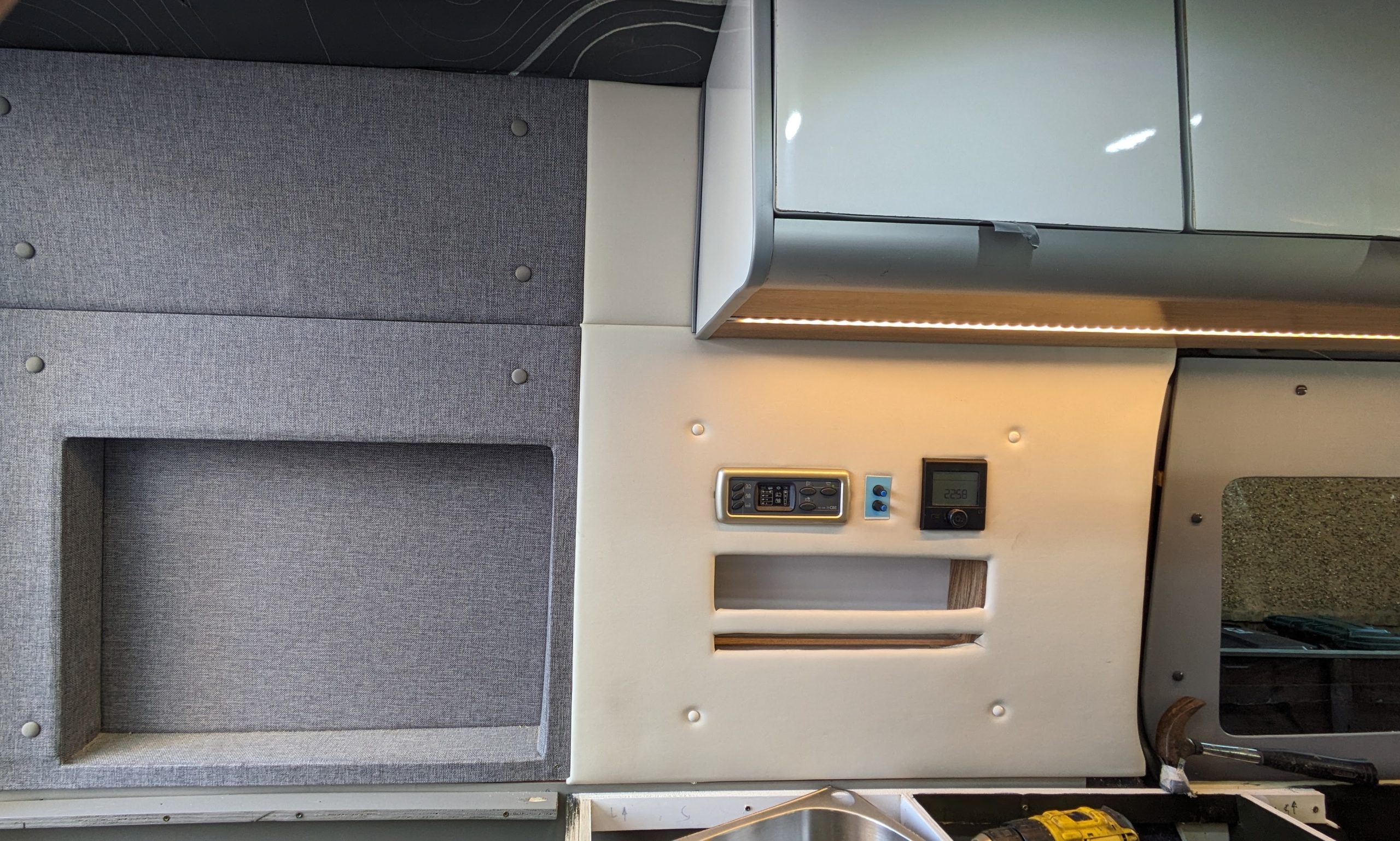 So part 4 of my current build video series is now live on Youtube. I haven't been documenting each step on here but thought I'd just write a quick round-up.
It's been a long slow process so far but was expected to be with costs mounting exponentially on everything here in the UK, from the price of the base vehicle to wood and fabric and everything in between. Part of the fun of the process has been noting the prices of each item required as new and then trying to find them cheaper somewhere (often 2nd hand).
This isn't to say that I haven't been enjoying the work. This is my hobby not my career so you'll often find me in the garage when I am not on the clock. It's my man cave, and actually not having a deadline is freeing!
However I am finding that I am potentially doing things the wrong way round. For example, while I wait for the price of the new(ish) double opening DOMETIC RC10.4T 70 and the CAN FO5010 Oven with Grill I have built the spaces that they should each fit into once delivered, but I'm going by their fitting instructions online rather than the actual product and a paper guide! It just feels the round-way-wrong. A little bit like I haven't measured twice if you know what I mean. Anyway they should both just slot in when I can afford them to magically arrive!
But right now I am finishing off building the kitchen cabinetry. I like the colour but I'm wondering if I have made the right decision about the finishing. I've left unpainted edge banding on the doors and drawers but it draws the eye to any minor misalignment in my fitting and I'm actually not great at this part so may well tidy up and paint the edging to help them blend in.
Anyway that's a few steps ahead. Here's my latest build video with the previous ones linked below for reference. Cheers.
Part Four
Part Three
Part Two
Part One
Product links:
Sticky back wood effect vinyl: https://ebay.us/RQPGO3
Cream colour padded faux leather (pleather): https://ebay.us/t4x1dE
Gloss formica sheet : https://ebay.us/8JUSvy
Impact adhesive: https://ebay.us/9hj1Kq
Knock on T edging: https://ebay.us/ZrtTra
Rounded aluminium locker edging: https://ebay.us/AvvcJo
Protective flooring: https://www.wickes.co.uk/Proplex-Blac…
Vinyl lino flooring: https://www.factory-direct-flooring.c…
Evo dinette seat belt frame: https://www.evomotiondesign.co.uk/pro…
Vapour barriers: https://www.screwfix.com/c/building-d…
Scrim foam padding: https://ebay.us/pr4jCr
Door card fabric: https://ebay.us/HiHt49
Contact adhesive: https://www.screwfix.com/p/no-nonsens…
4 way stretch carpet: https://amz.run/71Fh