France Camping Cariste Summer Tour 2010

View France 2010 in a larger map
19/07 Monday
Drove 295 miles from Hove today. Crossed the channel on the Eurotunnel. Arrived early and were waved straight on. Their numberplate recognition system rocks. Stopped for lunch at Etaples (near Le Touquet where we will spend our last 2 nights) in a supermarket car park after a quick shop and filling up with cheap diesel (£1 a lite compared to £1.20 in th UK right now). Drove on to Honfleur before we decided the Aire de Reste was just too crowded despite it's convenience. Drove 5 miles out of town to find a French Passion farm (Pierre Brûlée) for a lovely peaceful free night with just one other (German) van.
20/07 Tuesday
We drove back into Honfleur first thing this morning emptying the waste water tank and filling with fresh at the very stinky and overused Aire de Reste in the town. The only consolation was that we didn't pay the 6 euros it costs to park there as we had no change. We barrelled on south today towars the southern Brittany coast. We broke the journey for lunch in a rammed service station car park on th péage near Caen. After a long drive around looking for either an Aire de Reste or a campsite (they were all more than £20 and very few of them had a pool for a lazy cool down at the end of a long day) we eventually stumbled upon a new Aire at Le Baule nr Nazaire. 577 miles by the end of the day.
21/07 Wed
Lunch was at a shadey canalside picnic spot near St Honore near where I had marked a campsite on the map from a Guardian recommendation. We had a look but decided not to stay in this remote location for the cost. Instead we continued on into La Rochelle and got stuck in traffic jams but eventually decided to park up on grass in a 24hr car park and catch la navette (the shuttle) into town for a lovely sunny evening stroll and delicious steak and confit at a central brasseries (before the obligatory crepes and home!). Total mileage: 761. Stay at La Rochelle site communale.
22/07 Thurs
Nice drive into Cognac from La Rochelle along a shadey riverside road. Lunch at Cognac on the riverside in front of the Hennessy factory. After a brief stroll we drove on 2 mins out of town to the main Cognac campsite which had a lovely quiet pool. 828 miles.
23/07 Fri
After a tour of the Hennessy factory and tasting we drove out along the Charante before heading south and stopping at the riverside at Chateauneuf. We drove on south east towards Perigeux stopping at a France Passion site where we were told 100 people were due to turn up for an event that night! We drove on to a more peaceful farm at St Croixe Mareuil where we bought fois gras and were given some free cassoulet by the lovely madame. No one else joined is on this lovely peaceful grassy pitch this night. 908.5 miles.
24/07 Sat
Easy drive down into Perigeux where we eventually managed to park in a wide tree lined boulevard before hitting the market in the old town and the shade of the cathedral. Afterwards we tried to find tent poles for our shade sail at a Decathalon before shopping at Leclerc and making sarnis in the car park (becoming a tradition) and heading on south for Beynac. We drove through pretty Les Eyzies before arriving to find out that Camping Capeyrou was full. Determined to return we went on to nearby Vezac and swam amongst the Dutch at Camping Les Deux Vallees.
25/26th Sun/Mon
Camping Capeyrou, Beynac.
We picked this site from a Guardian recommendation before we left blighty and it didn't disappoint. Superb location on the banks of the Dordogne. Lovely grassy pitch, a warm welcome, great facilities (inc pool) and a really peaceful night. Beynac itself is just across the road and there's a good stroll up the steep cobbled streets to the castle – well worth doing even if you are 7 months pregnant like Lucy is. Yummy dinner on the last night in a restaurant right next to the campsite. 1,000.0 miles!
27th Tues
We decided to plunge on south for one last night near Cahors so that we could visit the market on the Wednesday morning. Easily circumnavigating Cahors we shopped and stopped for lunch at Douelle, by the lock, on The Lot. Tim helped some Dutch boat people through as we watched some kids jumping in by a 'baigner interdit' sign. Stay at Chateau Armandiere, Praysac, nr Cahors, Lot – France Passion. We bought a €8 bottle of 2009 Cahors Malbec and were then taken to a beautiful private spot right on the river bank in the shade next to the vines of the wine we'd just bought – heaven 🙂 (1,063 miles)
28th Wed
Coffee and shopping at Cahors market. Drive north 100km on the A20 peage stopping at an Aire for lunch (Jardin des Casses du Lot). Stay at Les Vergers du Coquart, Chauffour, a France Passion nut farm, after visiting 3 others in the area just south of Brive and north of the Dordogne. We spent a couple of hours swimming at Collonges la Rouge. 1,162.3 miles.
29th Thurs
Early start after a fairly disturbed night (by the rediculously quiet standards in general on this trip) and on the road by 9. Quick stop at an Aire de Service on the A20 but otherwise north, turning off at Chateauroux to head north west for Tours and the Loire. Picnic lunch in a car park at a chateau at Montpoupon and photos before starting the search for French Passion sites near the river Cher. 2 down we decided to visit Chenonceau chateau before moving on, as we'd made such good time. Lovely stroll through the madding crowds and on to Athee-sur-Cher to overnight at vigneron Chateau du Nitry amongst the vines again. 1,394 miles.
30th Fri
Today we drove! 320 miles to the north. Stopping for shopping and diesel and our speciality lunch stop in a supermarket car park. Nice easy and quick drive up the motorway, most of which was not peage but good quality – and empty – roads. We made it as far north as Le Touquet but decided to head inland to a remote Aire de Reste which sounded excellent and indeed was. It may have been €6 for the night but it had showers (even with coat hangers in) and was immaculately clean and manicured. We joined one other van and were joined by two others but had possibly the quietest night ofthe whole trip. Embry Aire de Reste. 1,714.5 miles into the trip.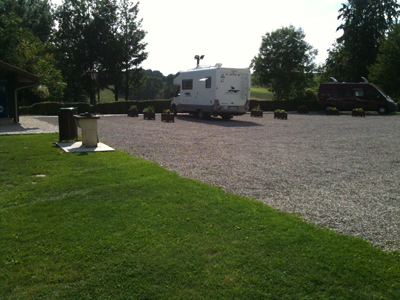 31st Sat, 1st August Sunday
Up early for the drive to Le Touquet where we get our pitch at Camping Stoneham, Le Touquet at 10am and leave the van to hit the Saturady market, where we meet Lucy's dad Frank as planned. We spend our last 2 nights and days in one of our favourite French places – eating in the Cafe du Sport, strolling the streets, drinking cafe au laits and trying not to eat to many pastries, cycling along behind the dunes and strolling on the endless beach – a perfect end to a perfect break.