The R̶i̶s̶e̶ ̶o̶f̶ Return of the Pop Top Camper Van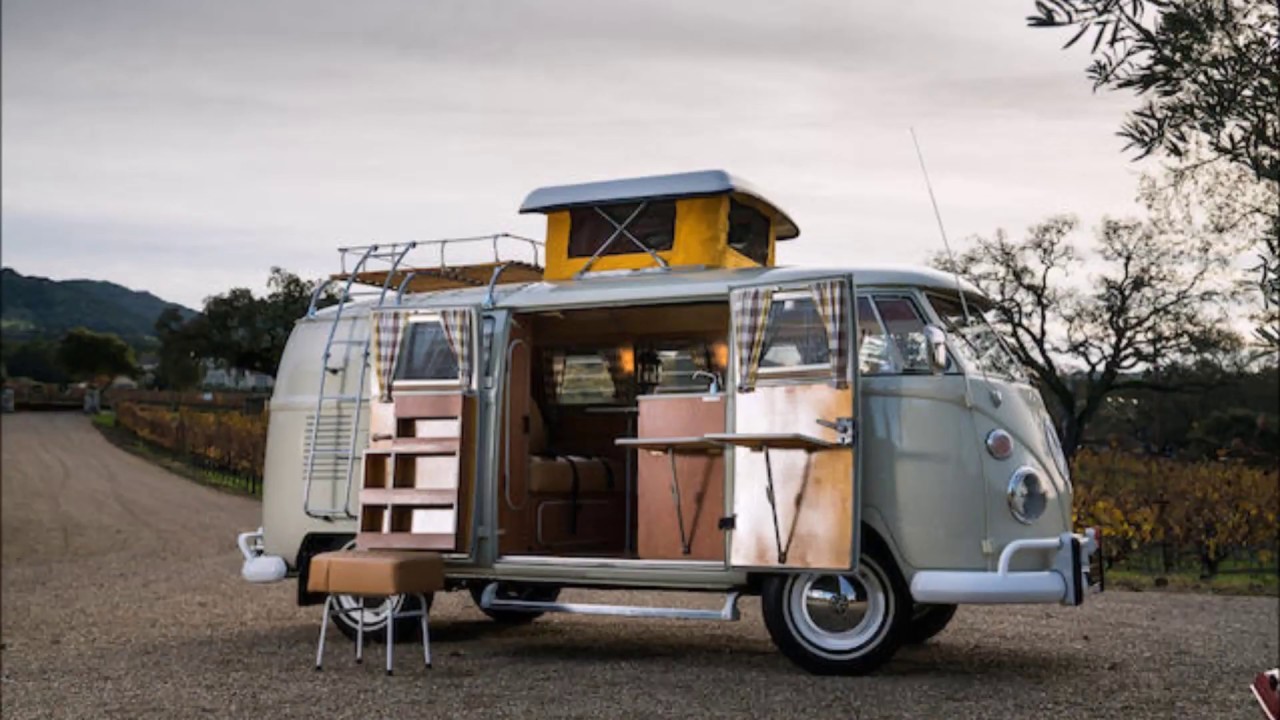 It's the 2021/22 trend and long may it continue – the return of the pop top camper is upon us, and with the advent of better fabric technology and all-round clever integration this cool method of extending the living space is here for good reason. Let's take a look at the current offering of pop top campers.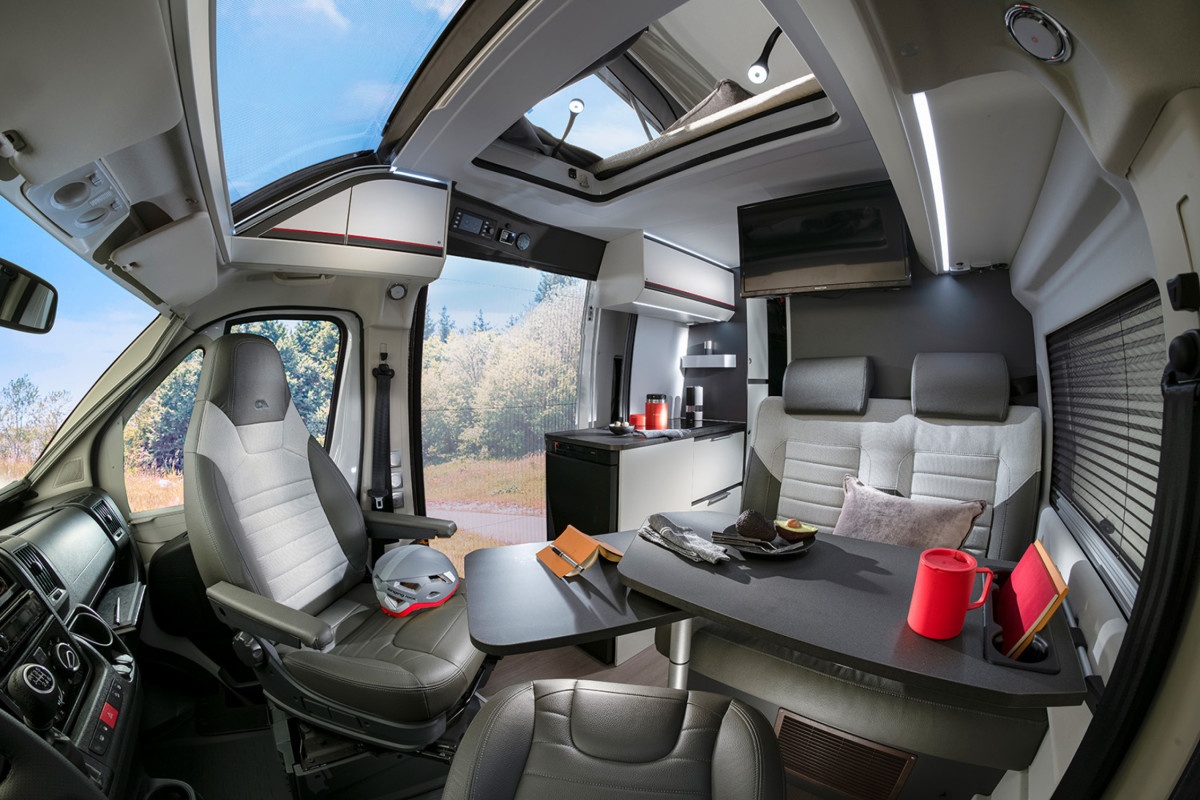 We've come a long way since the sixties in regards to camper van technology but some things in compact spaces never change and the desire to create additional room is one.
Back in the days of the combi (aka cramper, not camper!) even the smallest amount of additional head room was a luxury. Never mind the kids who (as most of us were back then) were thrown out into the wet & windy night to survive alone in a tent together. Today technology allows us the luxury and providing a guest room – an annex if you like – for occasional use with virtually no interference to the camper van experience that we have all come to know and love.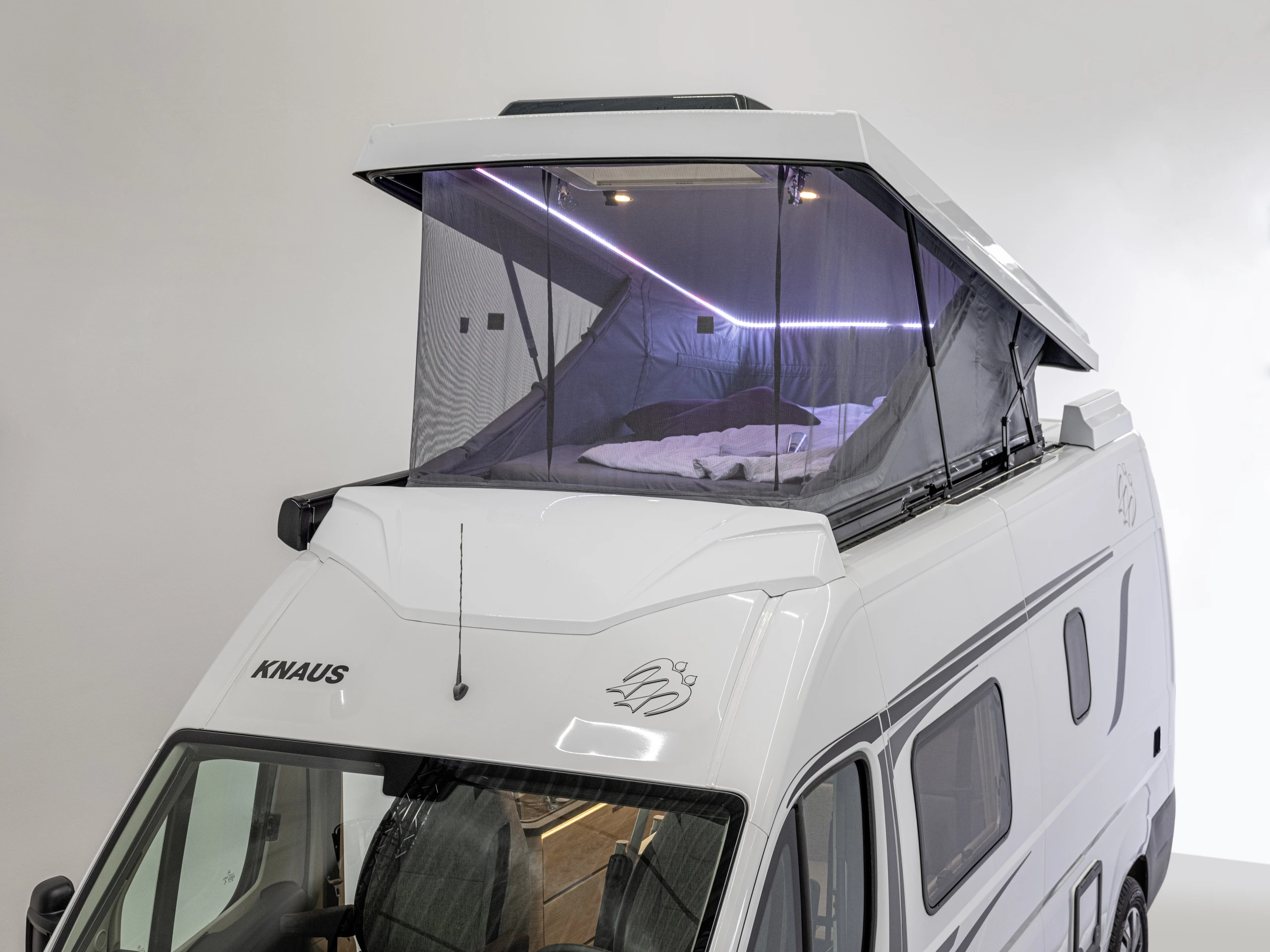 In all cases the tactile sensation of being under canvas is retained and enhanced. Sure it may get chilly up there but then there's the van's own heating system to provide hot air to keep you toasty. Conversely on hot nights "the loft" will be the preferable bed to sleep in. And don't forget that view! We're not talking ground level canvas here – check out that view to either fall asleep or wake up to! What's not to like!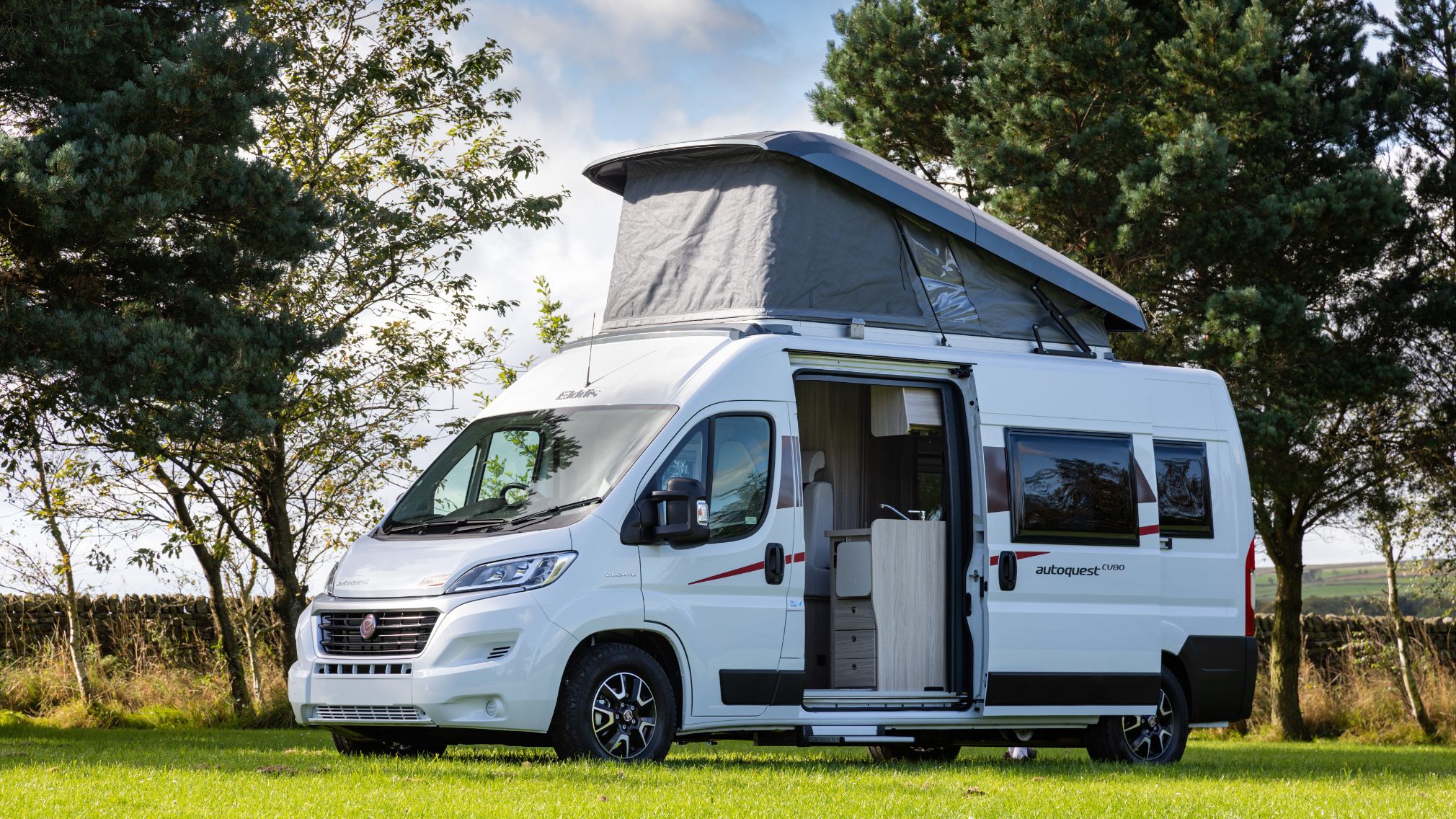 So what's not to like? Well the only issue really is one of cost. With the roof down there is no change in the characteristics of a standard modern day camper van. Sure there is a little more weight up high but this is usually factored in by the manufacturer in regards to uprated springs or even air suspension. There is no aerodynamic impact.
With the roof up what you have is a relatively small access hole into the loft space through which kids will delightfully clamber, but perhaps adults less so. You'll have to put up with a lightweight ladder in the main space of the van at night but other than that nothing changes. Yes you might have to deny yourself the luxury of that roof top terrace that you'd always wanted but you can still fit solar up there and some (LWB particularly) still have space for a skylight (or even aircon and a satellite tv aerial) up there too.
Make sure you check that what I would call the essentials are included in 'the loft':
a bed surface of at least 200 x 135 cm (king size width, double bed length)
convertible function with mosquito net and blackout material
warm air outlet
USB charger
Let's take a look at the current contenders.
---
Adria Twin Sports Edition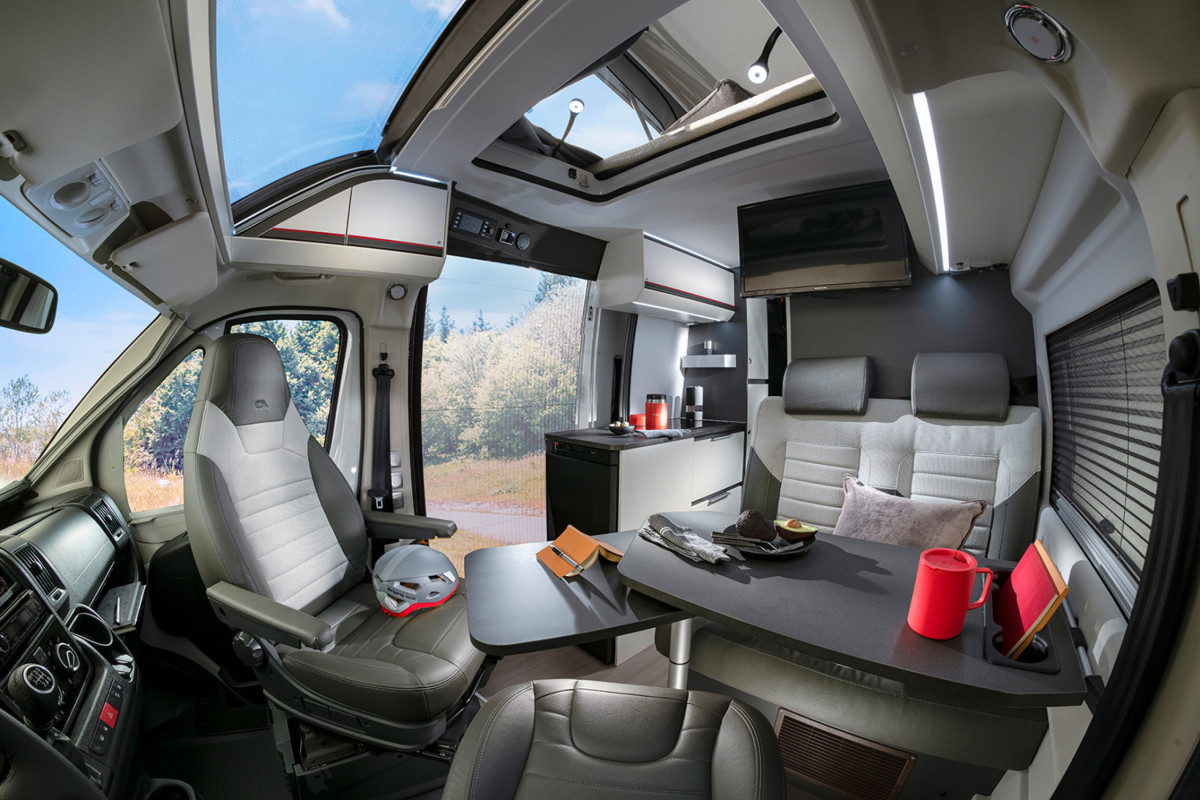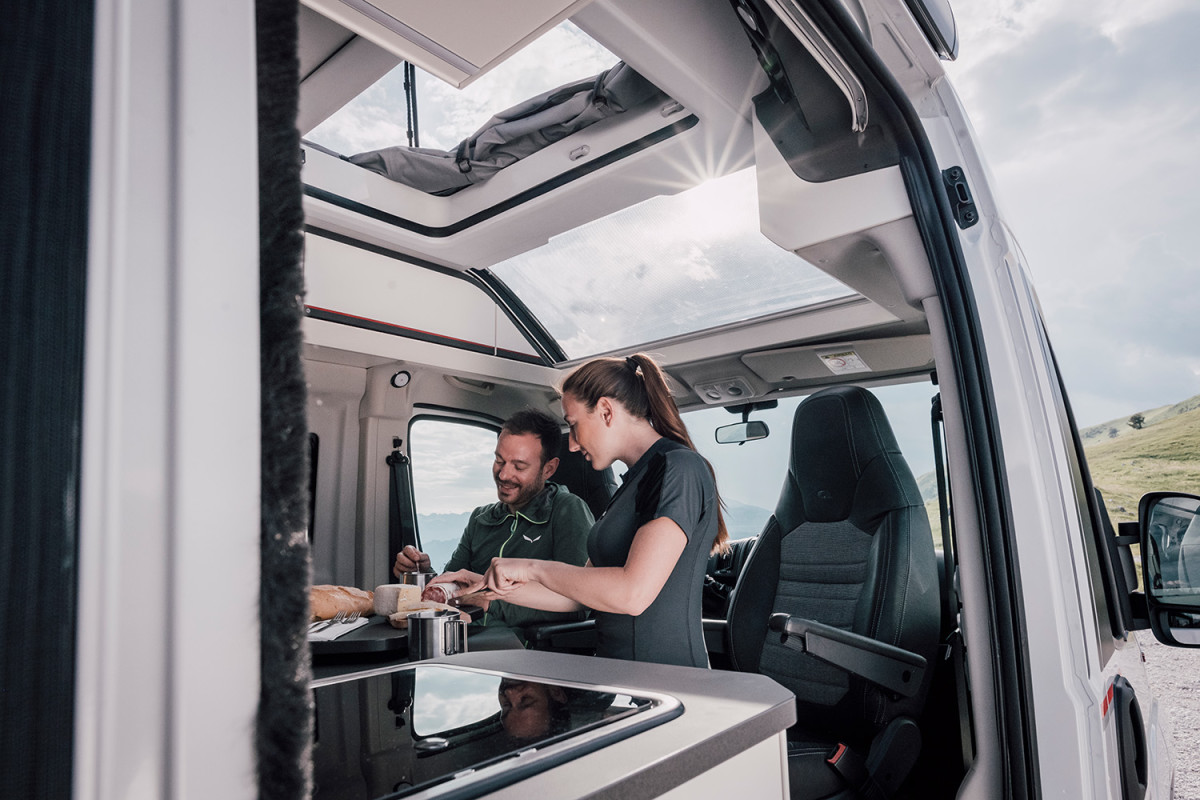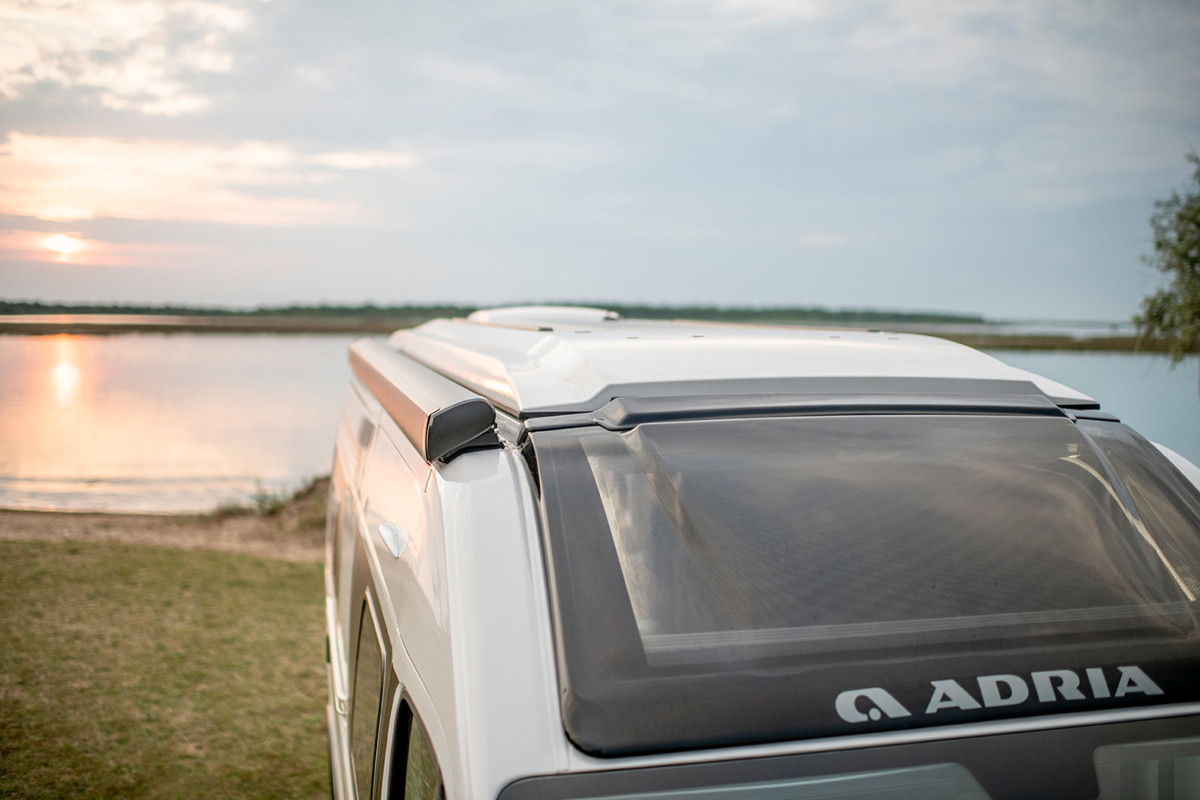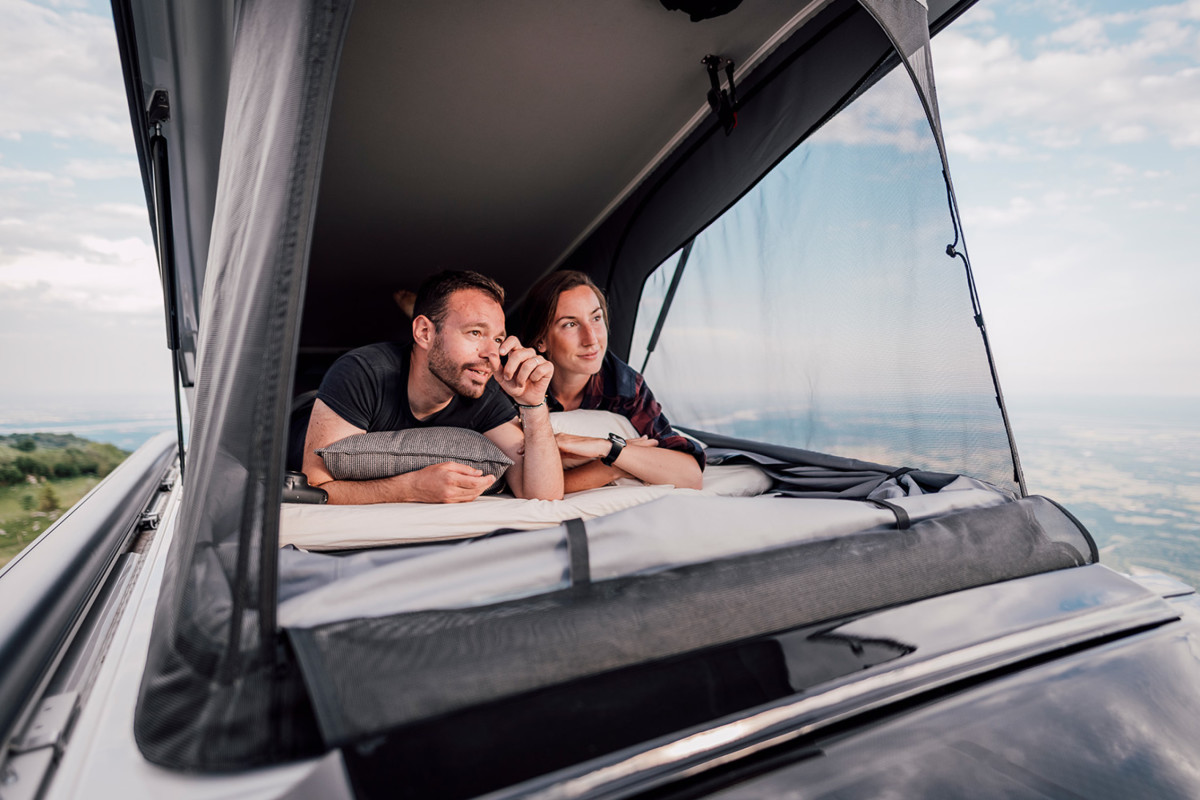 Slovenian camper van manufacturers Adria have been in the game for decades and have a very strong legacy. Their Adria Twin is an established and good selling model that has evolved well over the years. With the Twin Sports Edition range we see the simple addition of a hatch where we might normally have a skylight with a 3/4 length pop top big enough for 2 adults. There's a mesh outer layer and an inner fabric, both of which zip down to allow for any occasion. The loss of the skylight on the interior ambience can be replaced with the optional front panoramic glass roof which really is a lovely feature in its' own right as it allows you to see out the front even when all the cab blinds are up.
Prices from: £68,235
What's to like: Great heritage, no loss in light in the lounge from the crawl through to the pop top bunk
What's not to like: Others are cheaper
More info: https://www.adria-mobil.com/storage/2376/int-leaflet-twin-sport-edition-2021-11-lr.pdf (PDF)
---
Elddis Autoquest CV80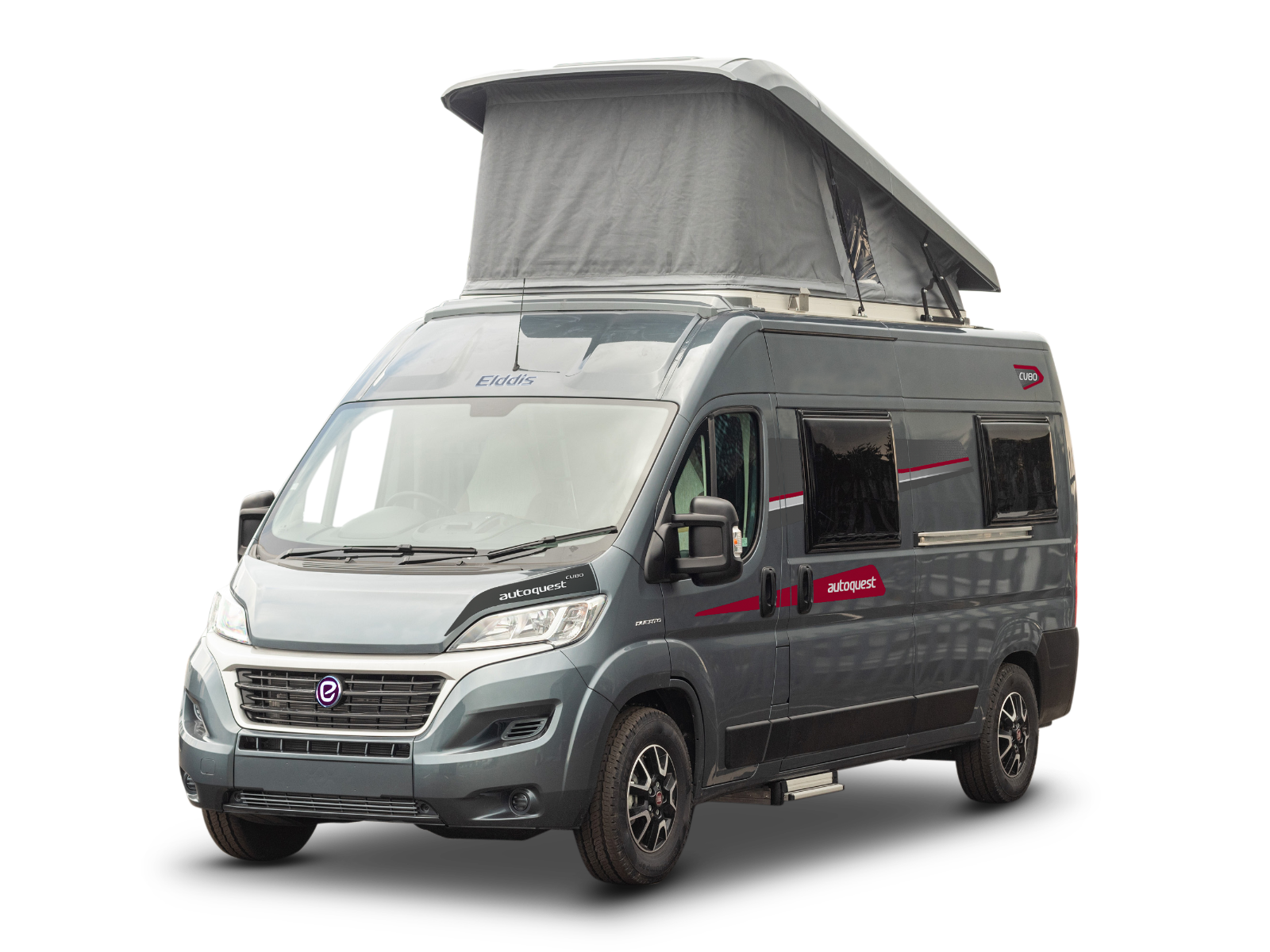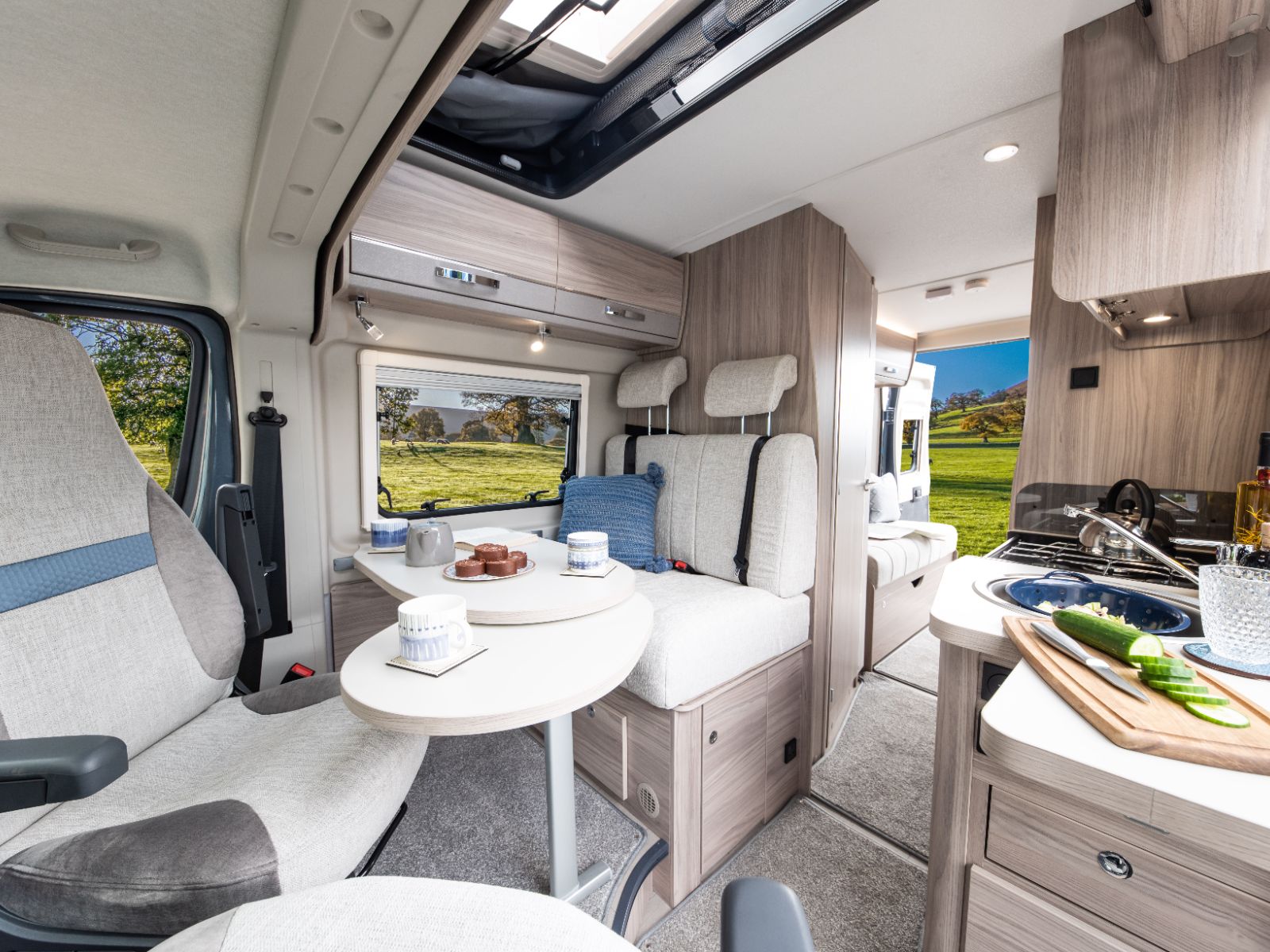 It's smaller sister the CV60 won the prestigious "motorhome of the year" award in 2019 and you can see why with this beautiful light and airy – almost Scandinavian feeling interior – now with the additional obligatory loft space.
Eldis is a member of the Erwin Hymer Group whose parent company Thor Industries are one of the largest motorhome manufacturers in the world and this legacy reaffirms the build quality and their reputation.
Prices from: £50,469
What's to like: good price point
What's not to like: not
More info: https://elddis.co.uk/models/autoquest-cv80
---
Compass Avantgarde CV80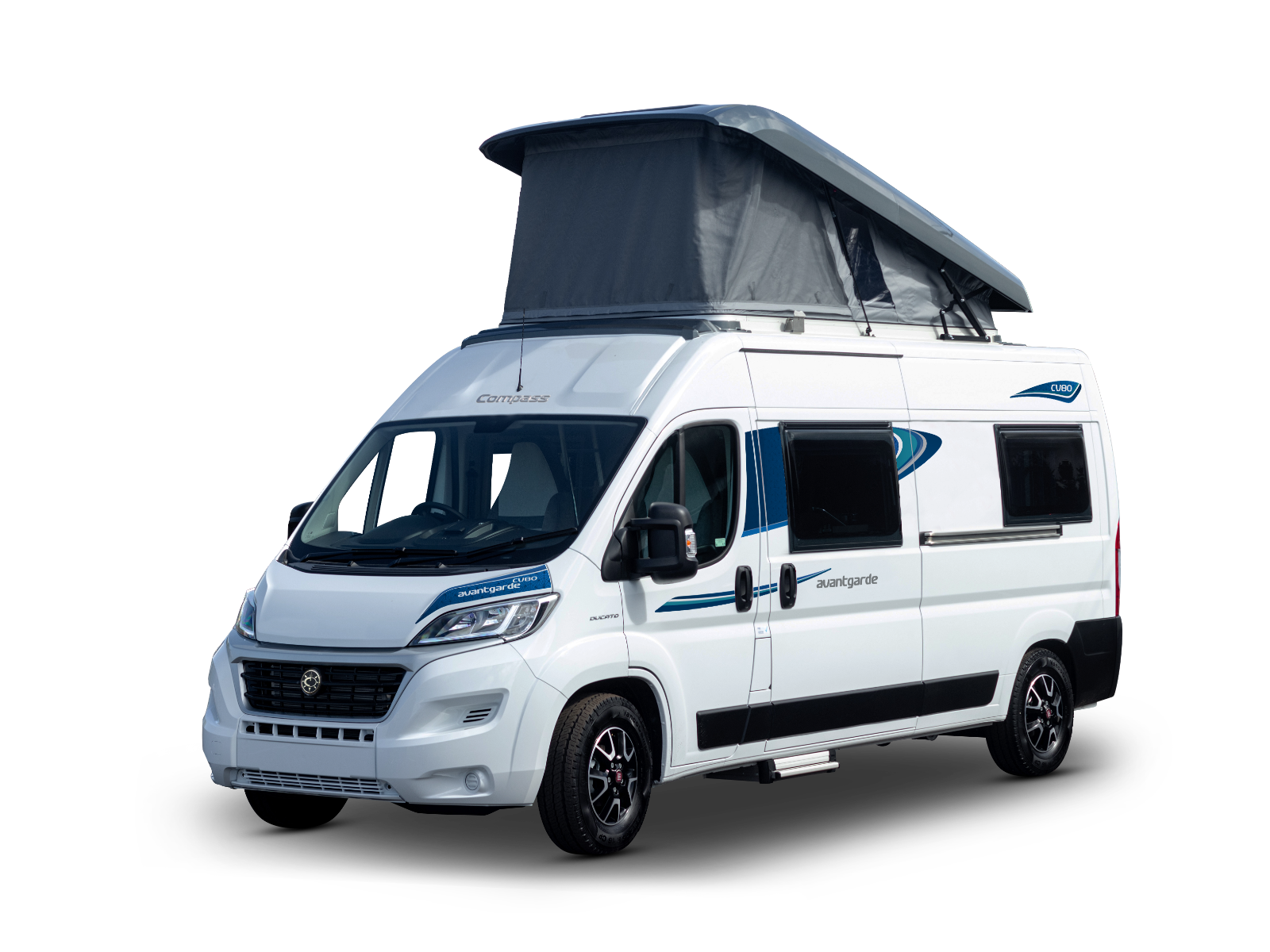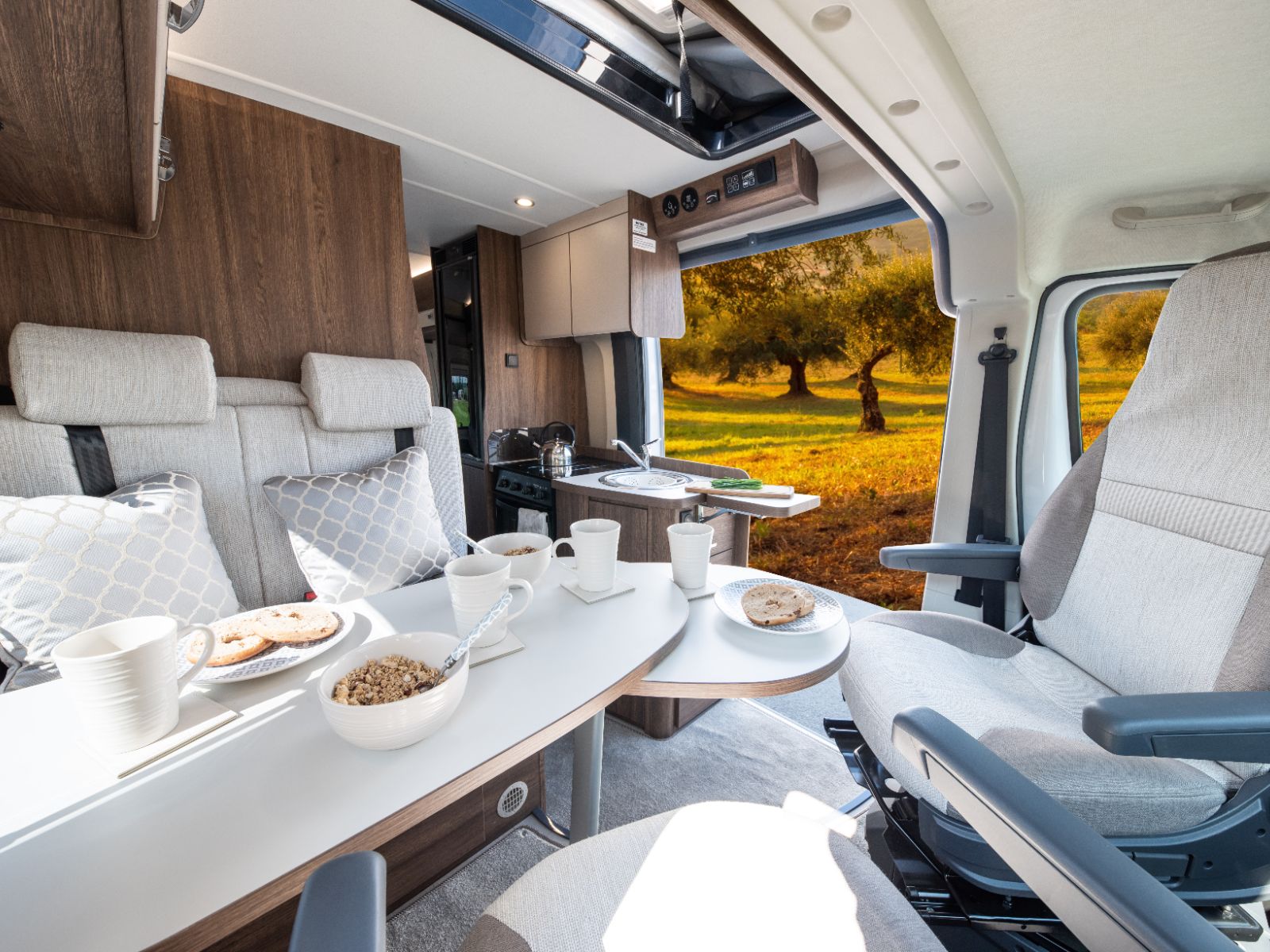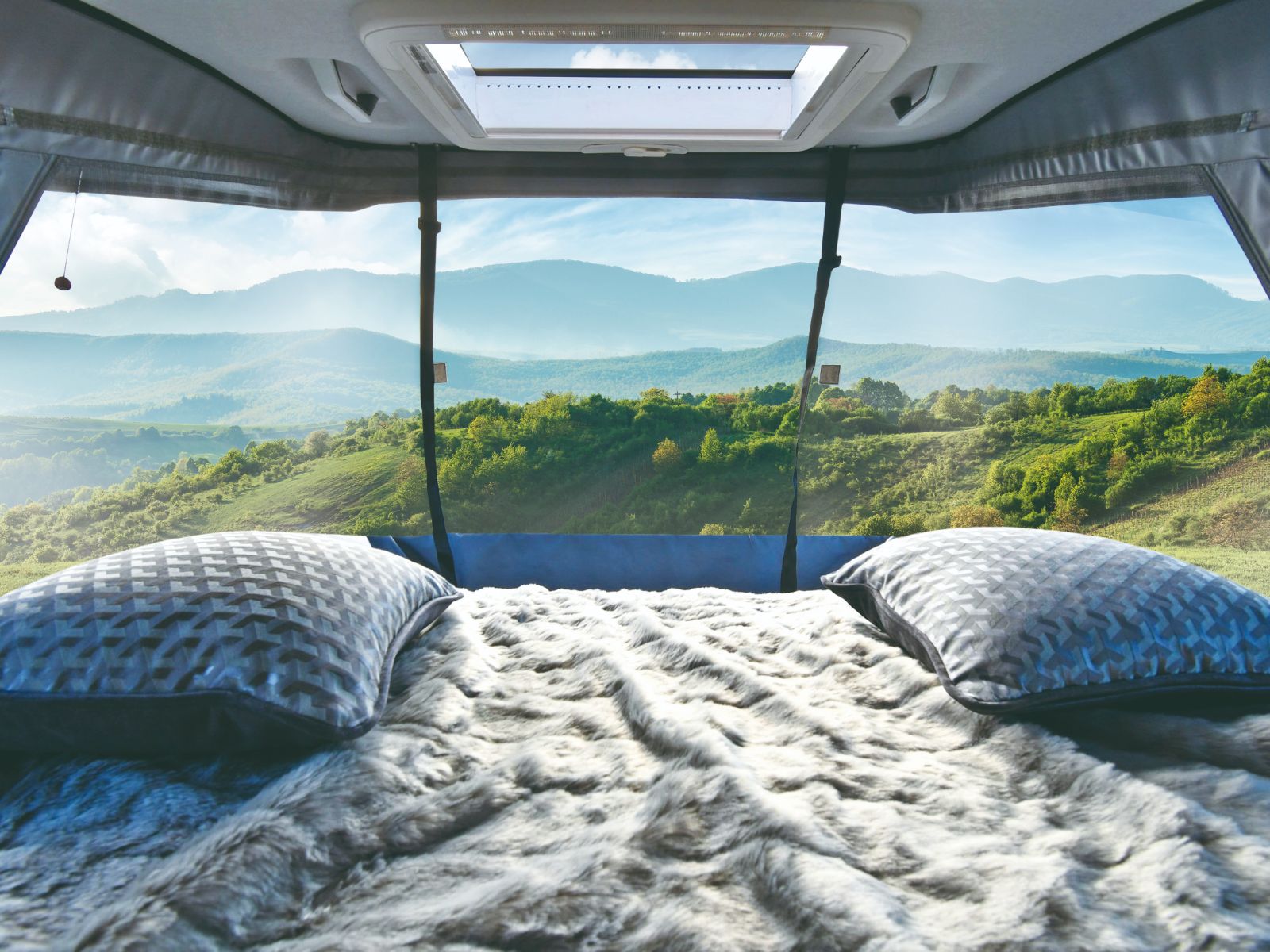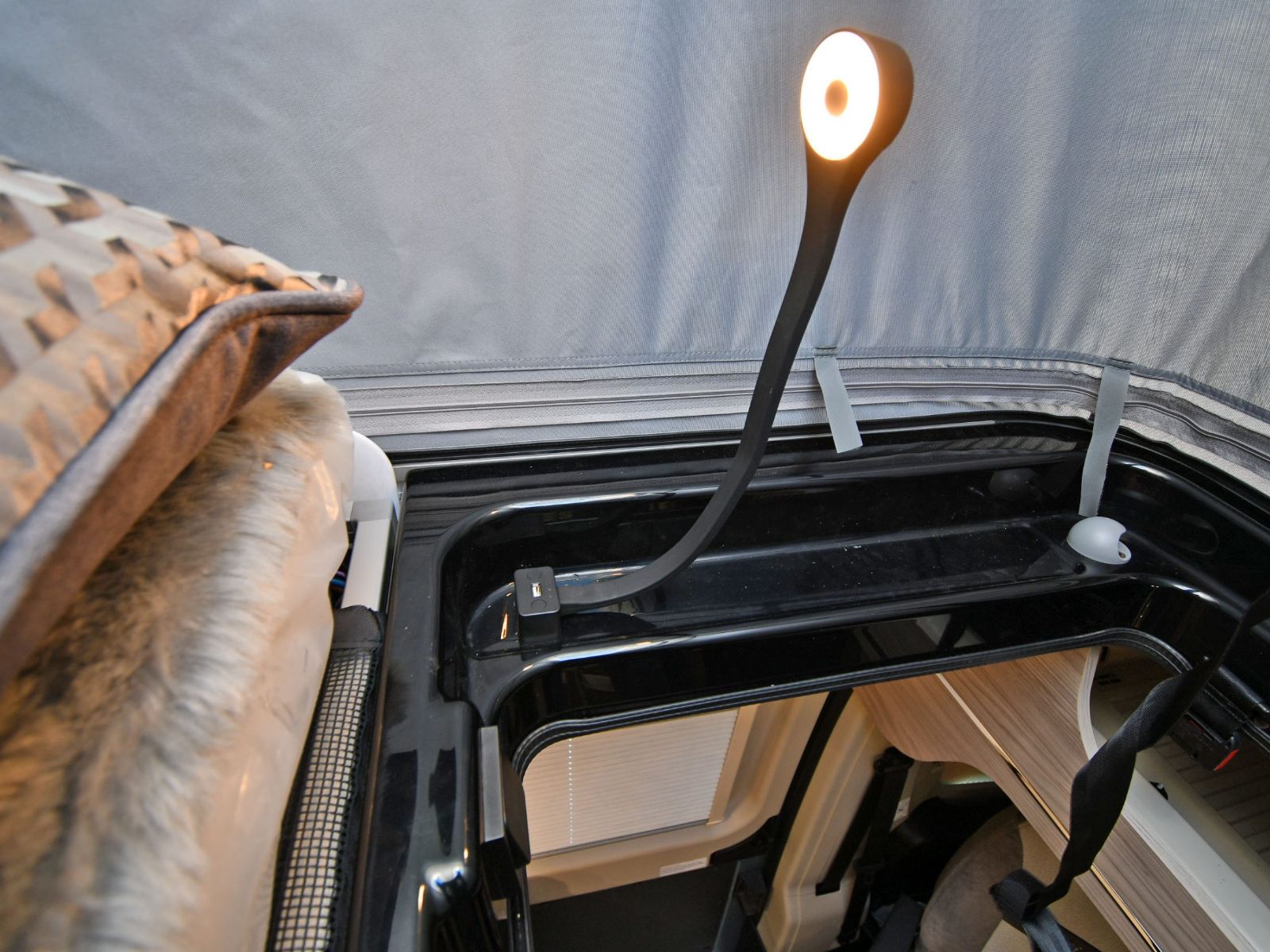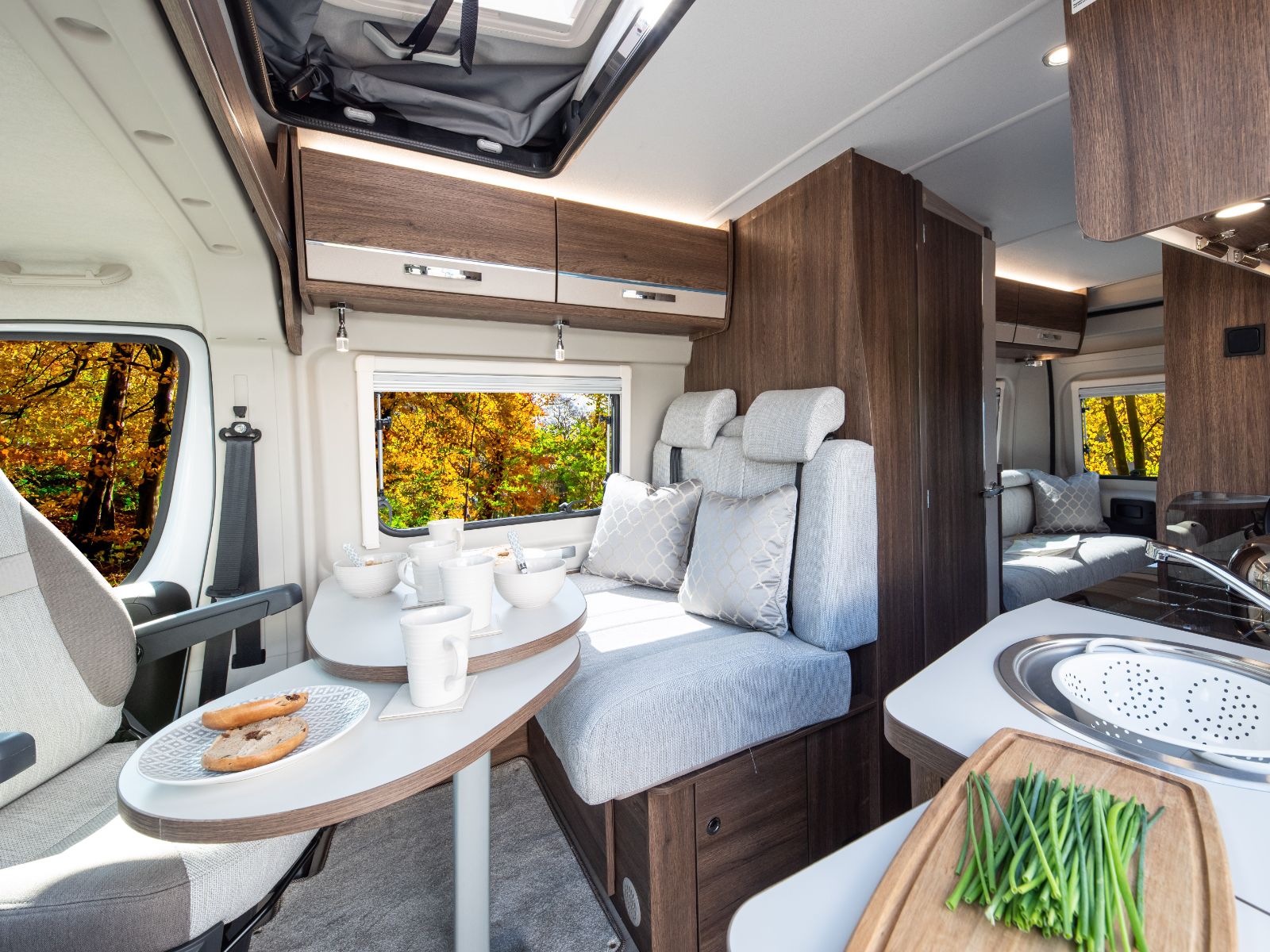 Same interior as the Elddis Autoquest CV80, different livery
Prices from: £50,469
What's to like: good price point
What's not to like: not a lot, but who wants a white van!
More info: https://elddis.co.uk/models/avantgarde-cv80
---
Rapido Dreamer D43 Up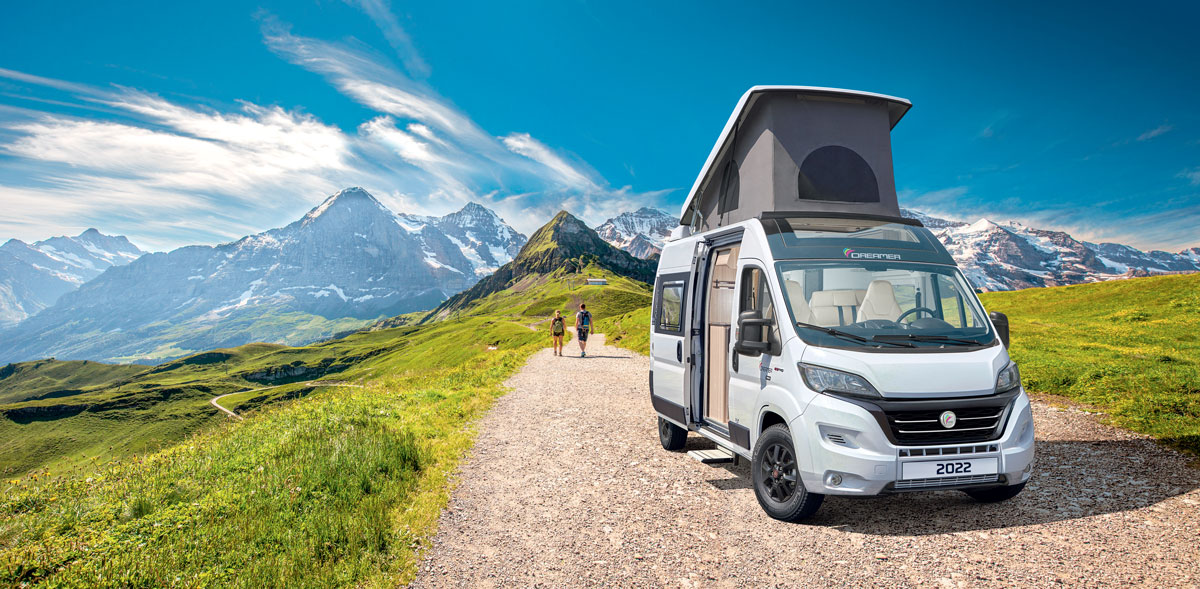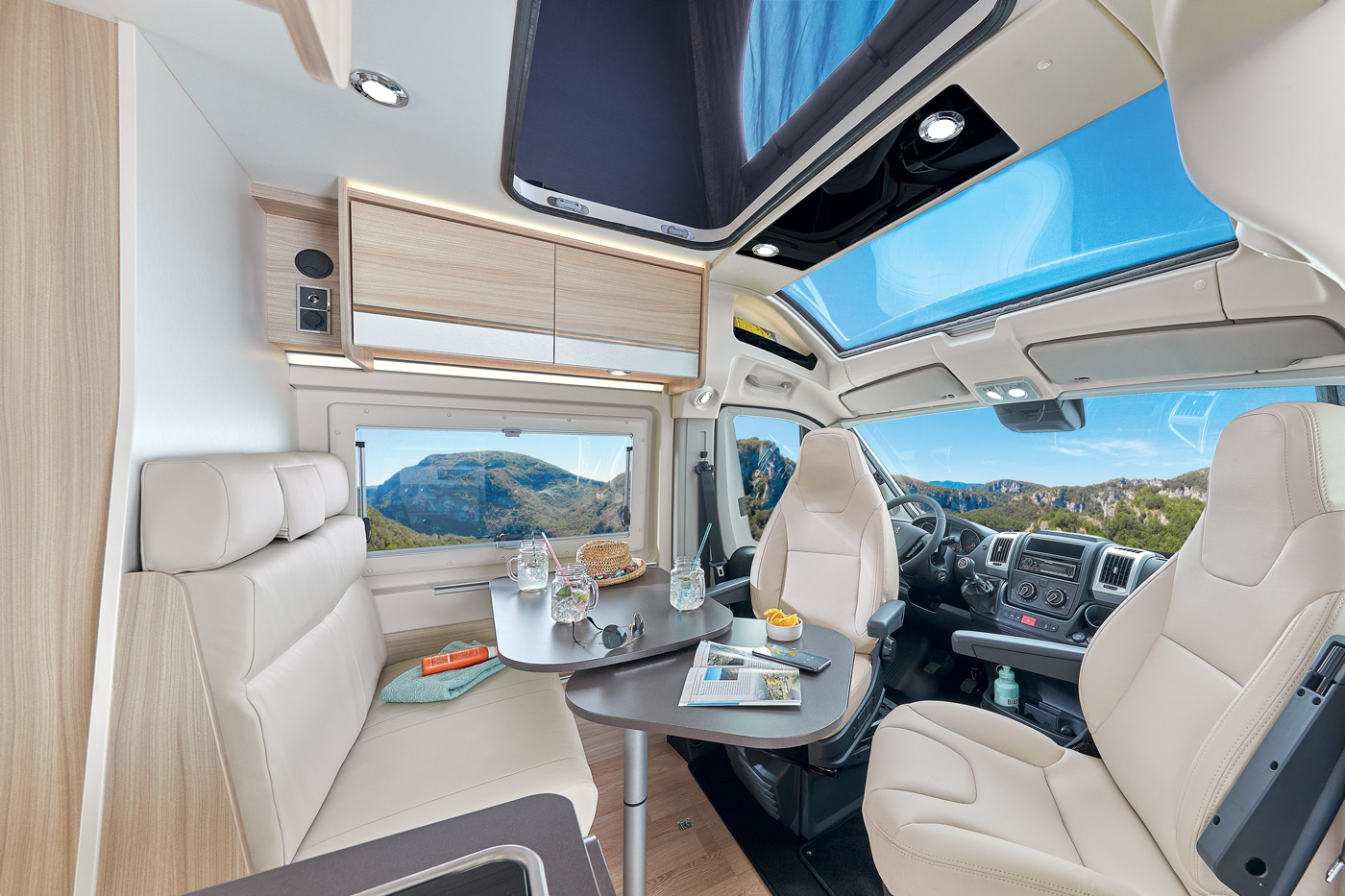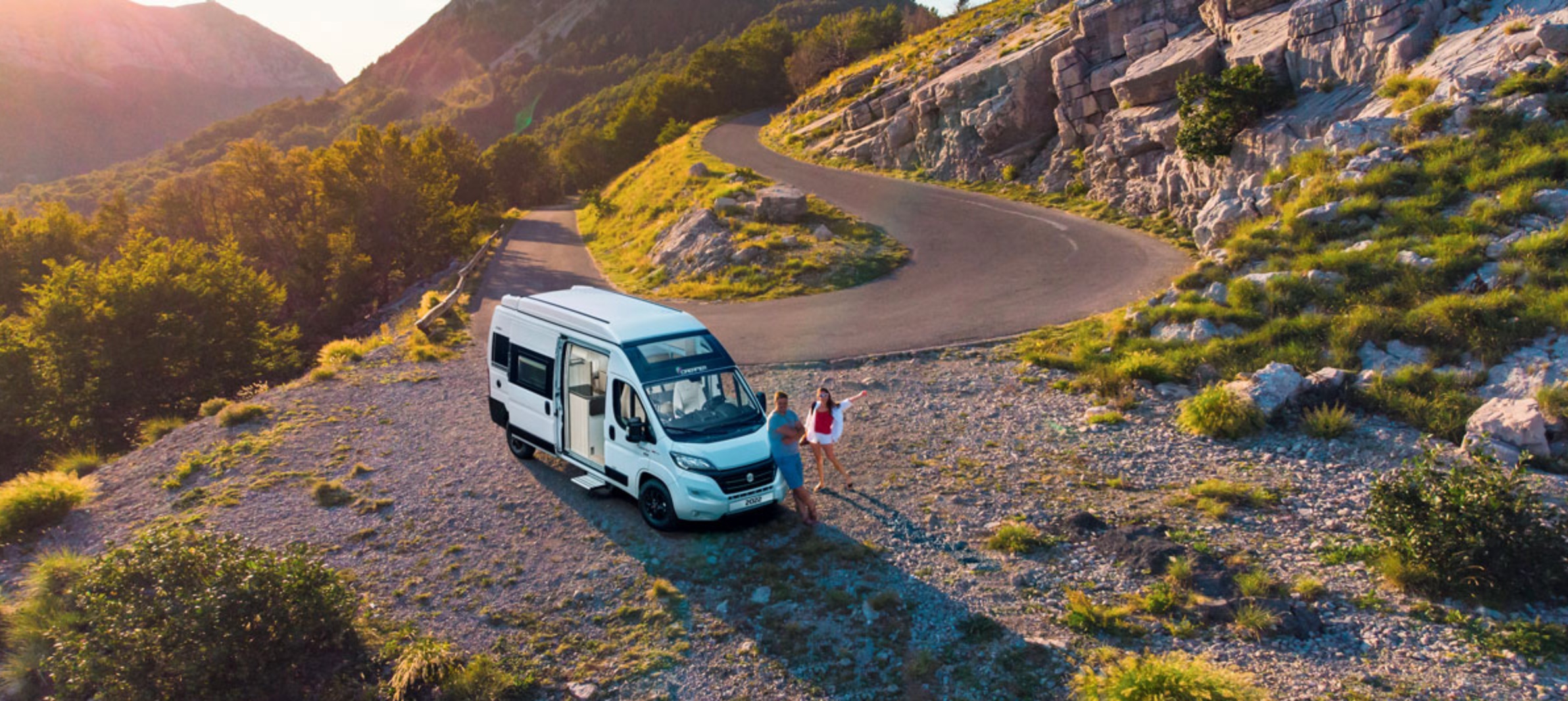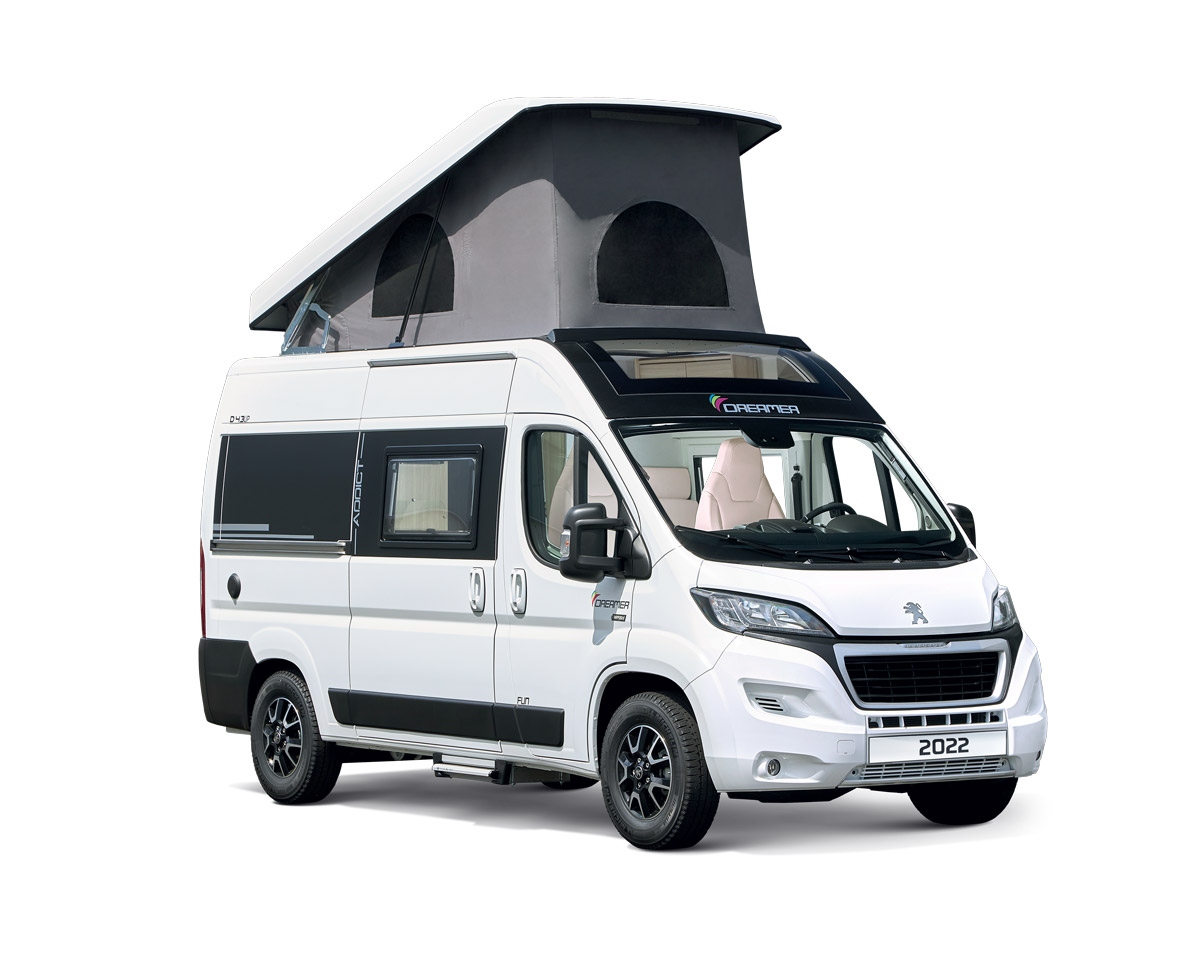 Rapido chose to de-badge in favour of promoting it's new low-frills family campers under the Dreamer brand. They do so without sacrificing quality and certainly know how to promote this typical adventure van type layout to a younger than typical motorhome owning audience.
Prices from: £56,661
What's to like: a good reputation if mostly from mainland Europe
What's not to like: no frills – so speccing up may add to base price
More information: https://www.dreamer-van.co.uk/ & https://www.harbourcreek.co.uk/our-listings/ for UK stock
---
Knaus Tabbert CUV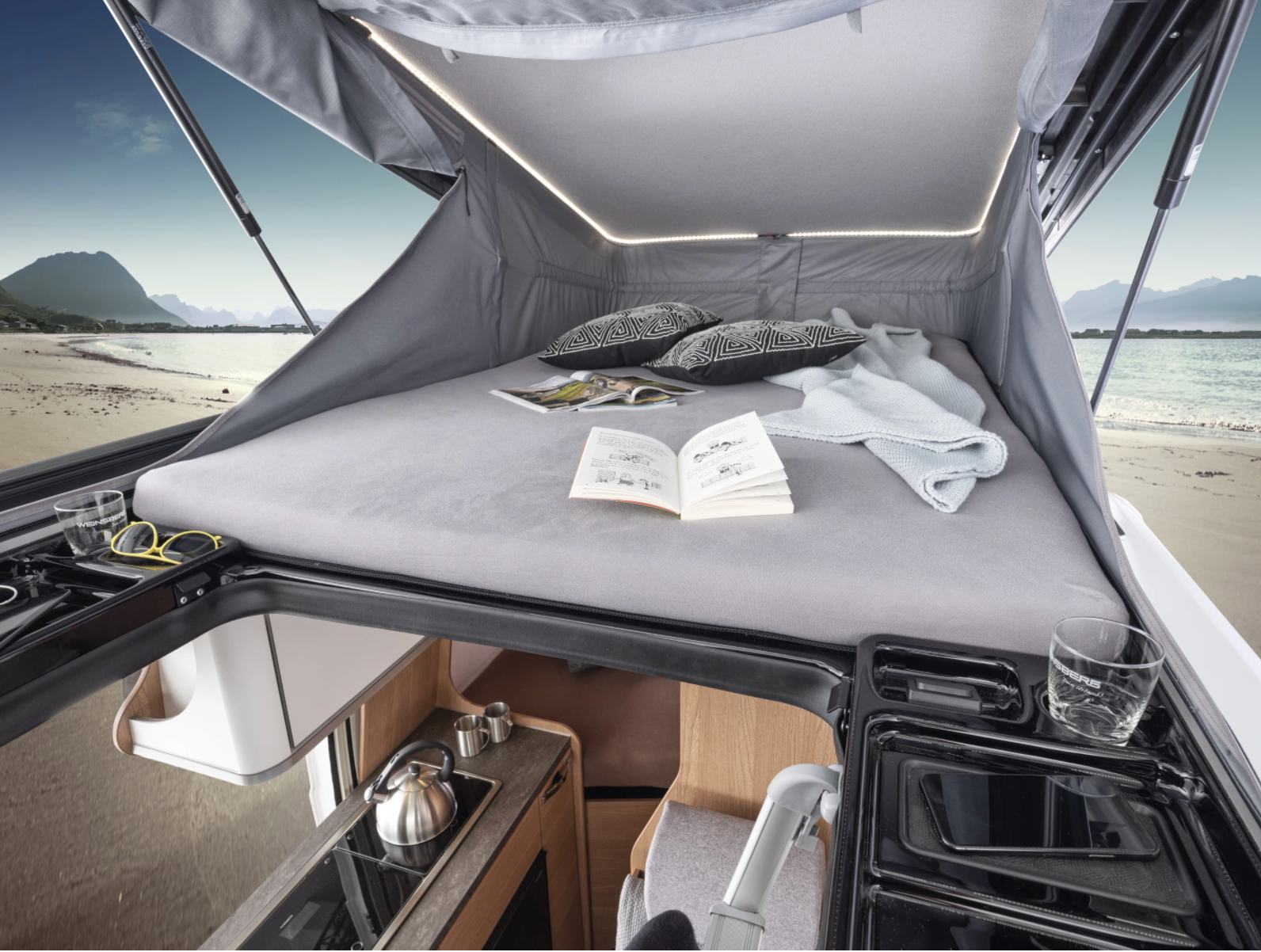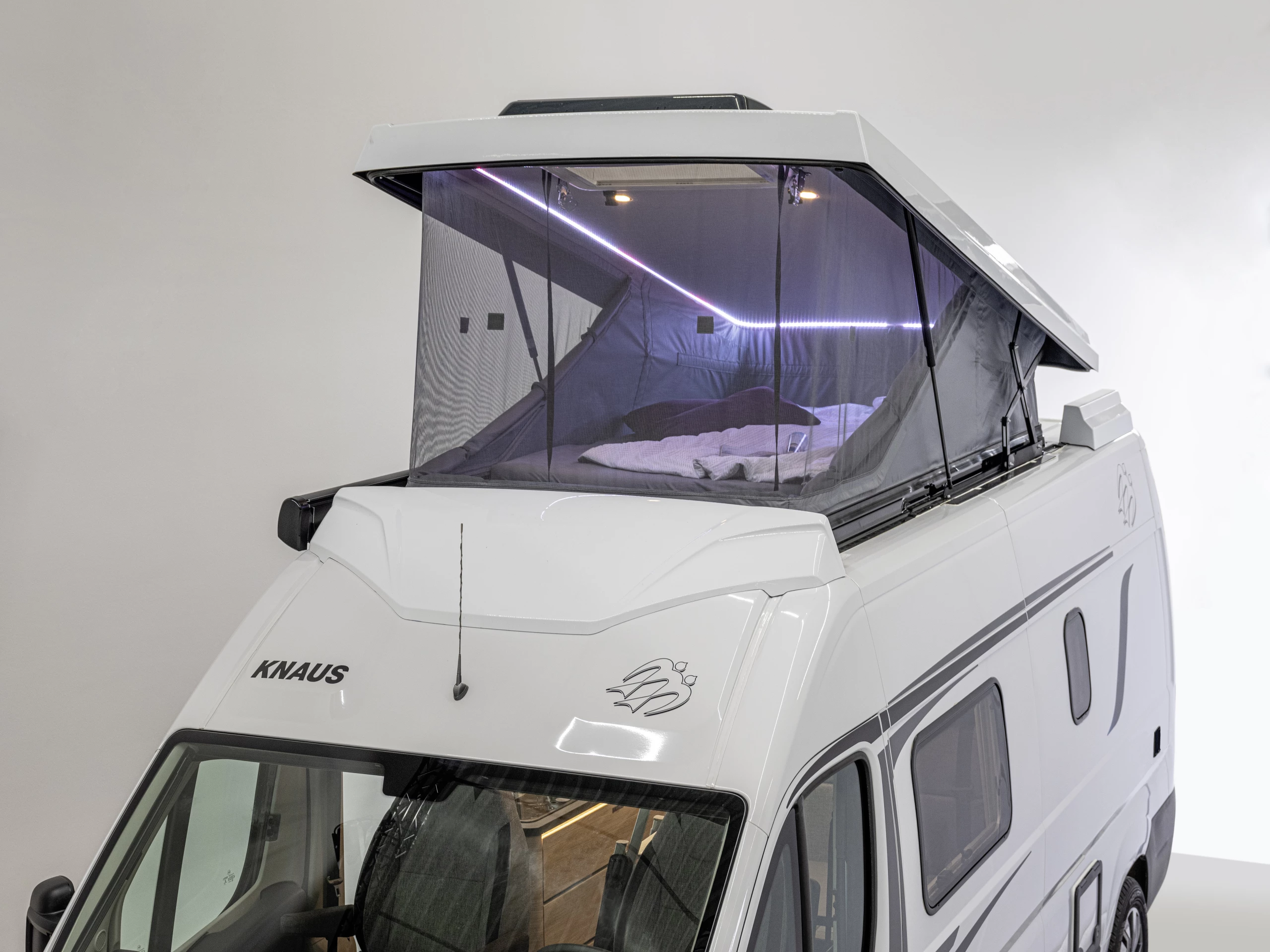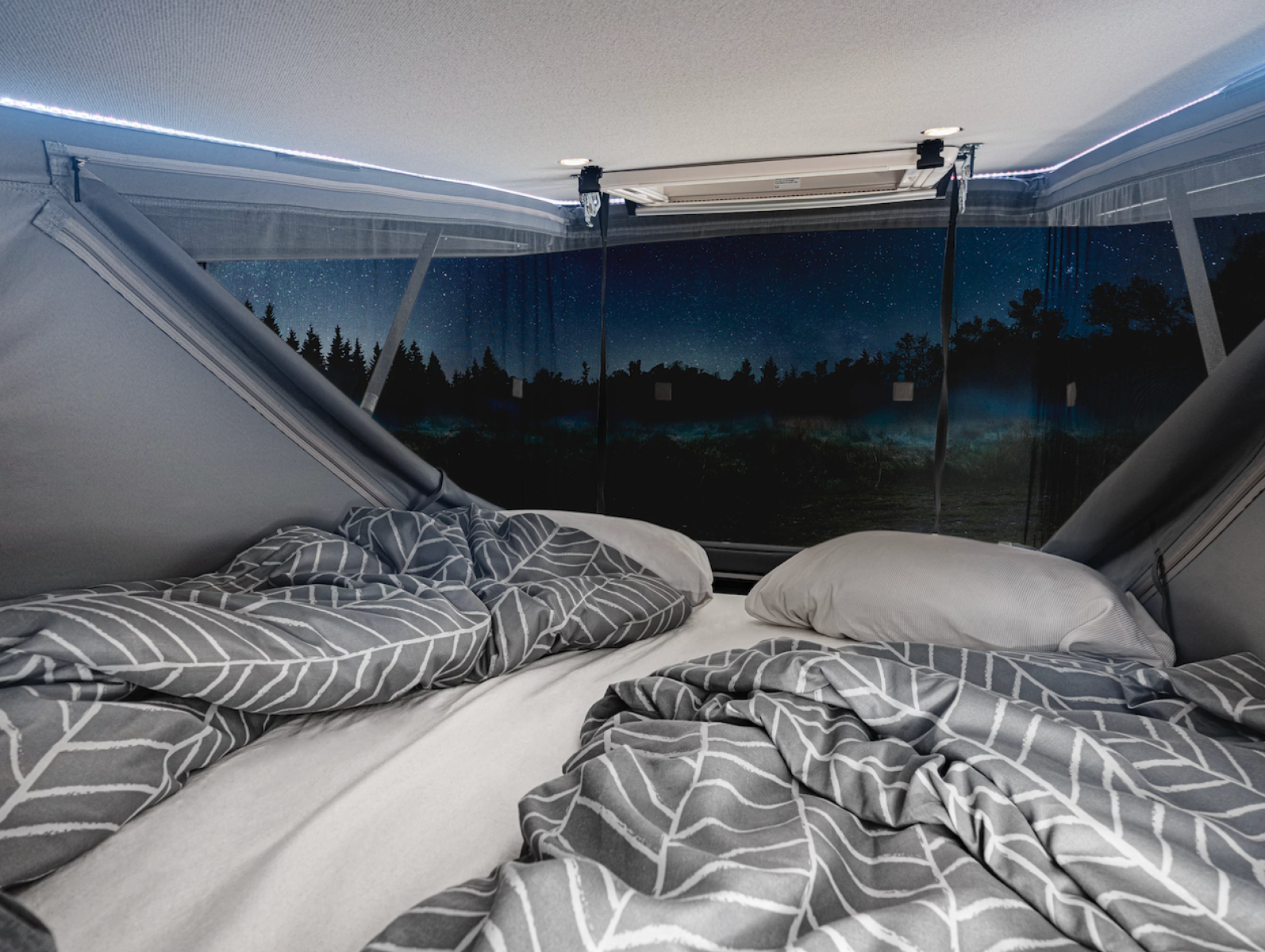 Canny converters Knaus are offering the pop top roof on all their base campers at a starting price of around £4k and their USP is the 270 degree "picture window" view through the fly netting when zipped this way which can of course also be entirely removed for those cafe del mar rooftop sunset terrace type moments. Amazingly they also do a 7 sleeper option on the same (LWB) chassis. Knaus have a great reputation in Germany and a 15 year heritage so you can bet this is a good purchase. Oh and buy the way CUV stands for Caravaning Utility Vehicle!
Prices from: £57,843
What's to like: panoramic views, optional air con
What's not to like: 120bhp standard model
More info: here's a link to their configurator
---
Malibu Adviser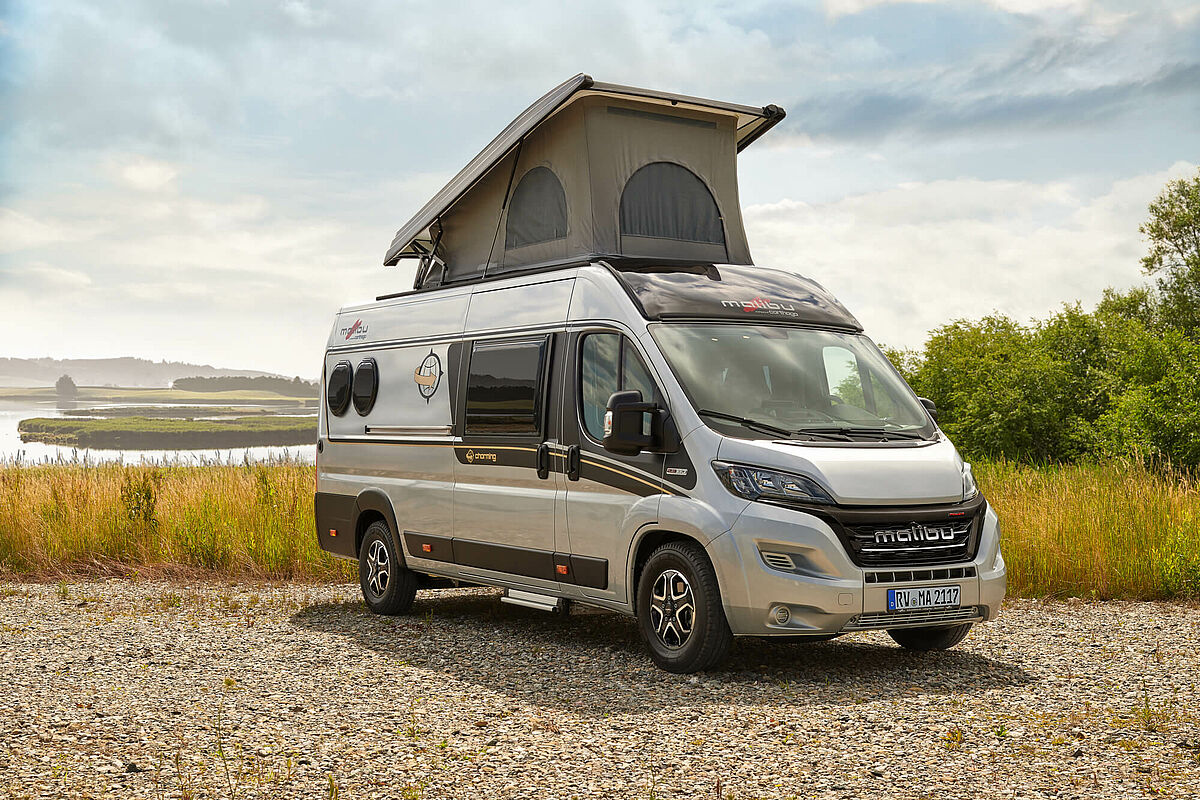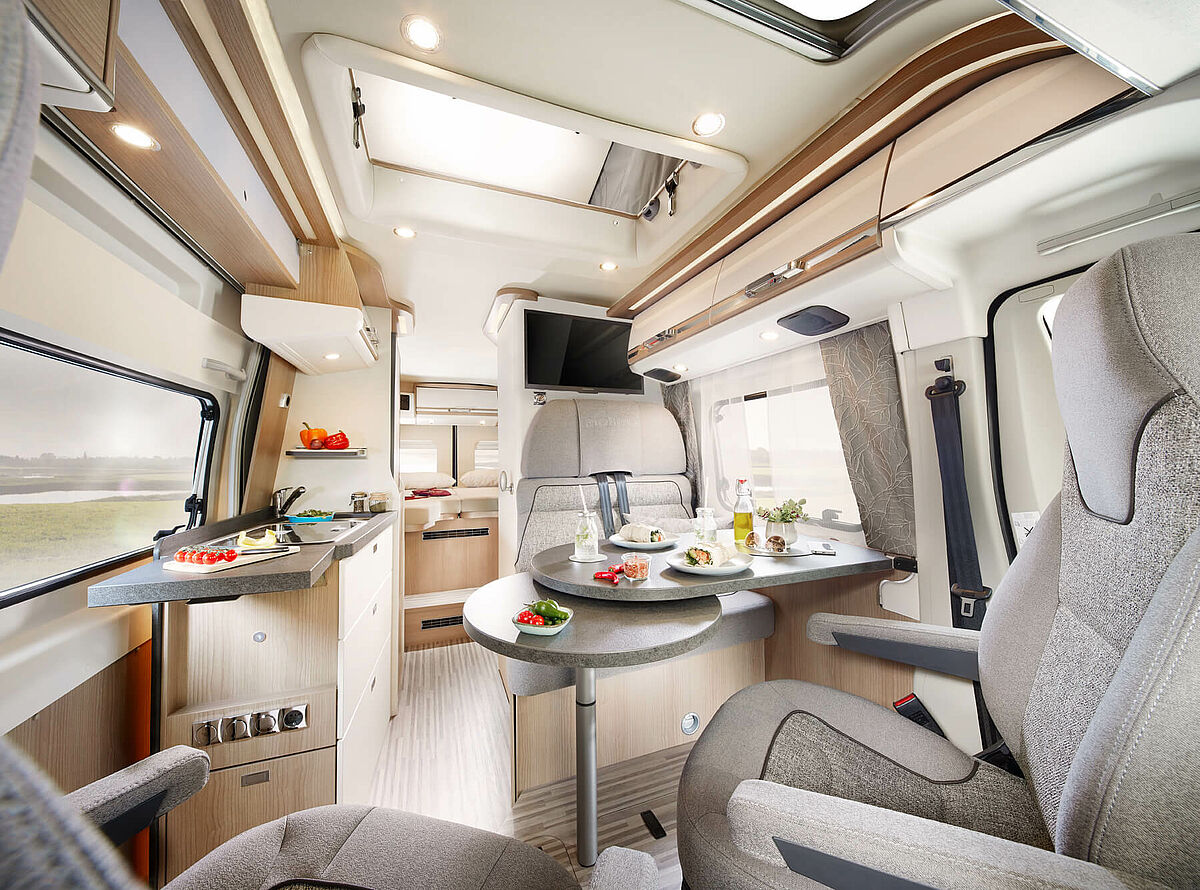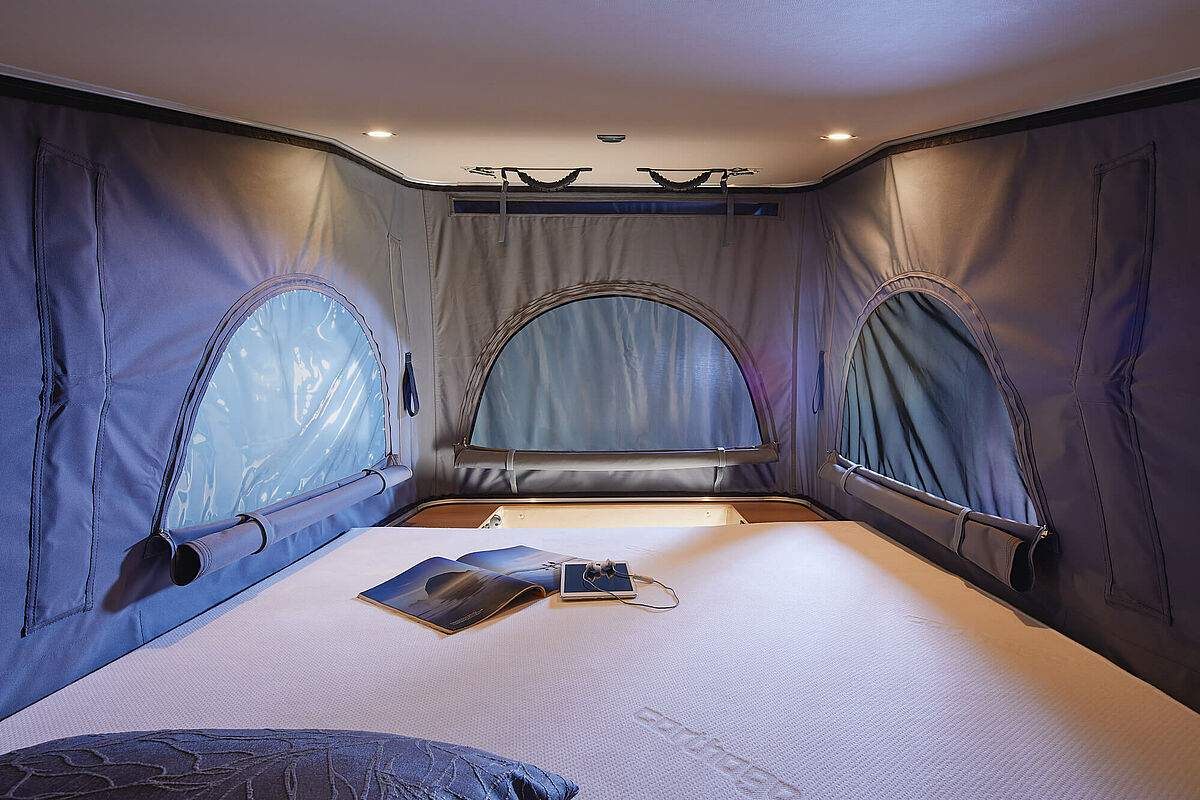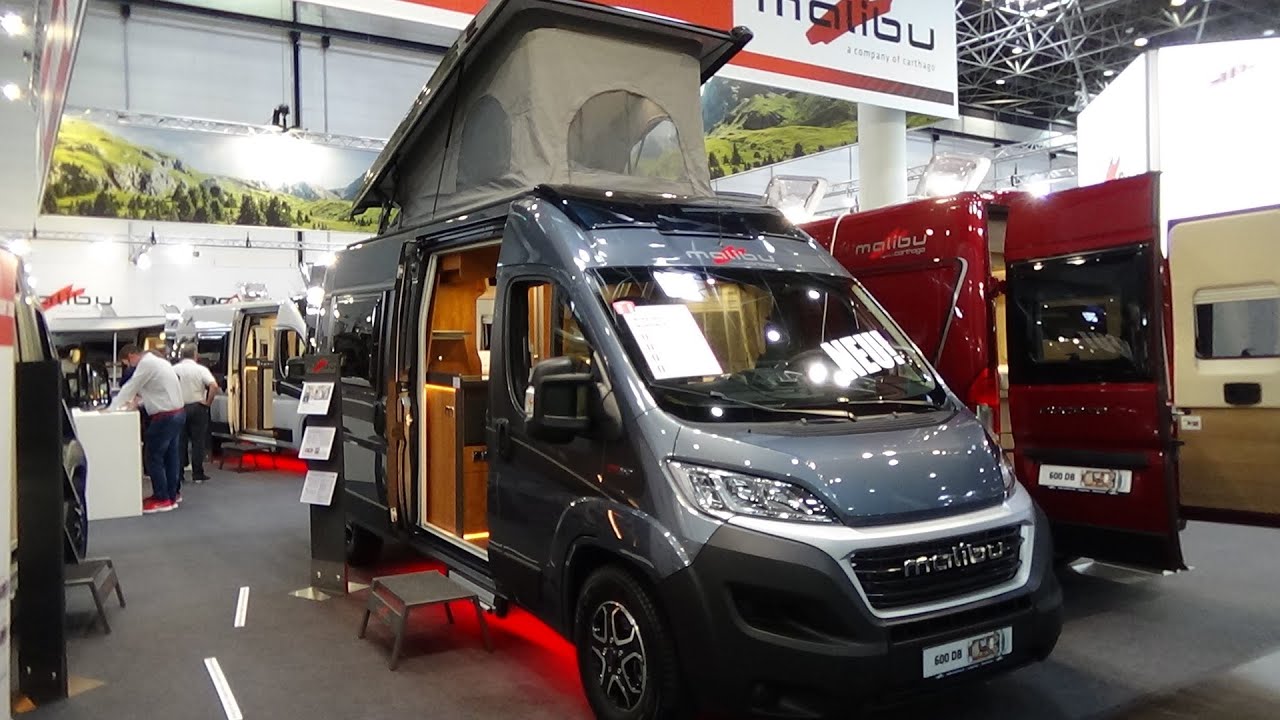 The Fiat Ducato Malibu range is extensive. It's 4 berth camper options all feature the addition of a pop top roof. Malibu's parent company Cathargo manufacture some of the most lururious motorhomes out there and have a great reputation in Europe. Their build quality is often called out as excellent.
Prices from: £54,245
What's to like: great legacy, good design
What's not to like: not the cheapest of this group
More info: https://www.malibu-carthago.com/en/company/news/en/malibu-van-family-for-4/ and their model overview comparison
---
Globecar

For £ 3,975 you can add the pop top roof as an optional extra on all Globecar models.
Prices from: £55,484
What's to like: nice to be able to pick your base vehicle and then add the pop top should you need to
What's not to like: very little info outside of a call to a dealer!
More info: https://globecar.co.uk/the-range/
---
AutoTrail Expedition 68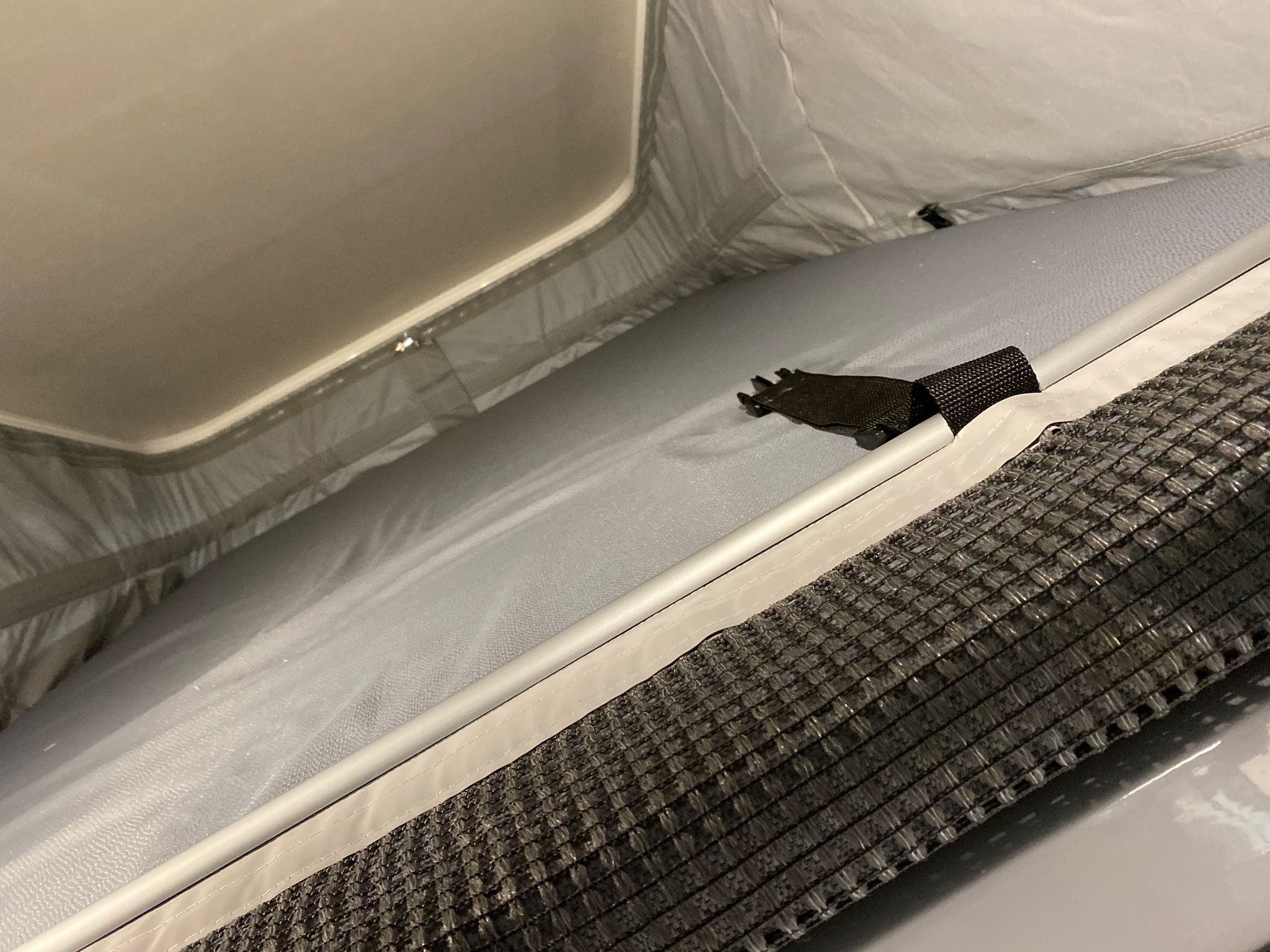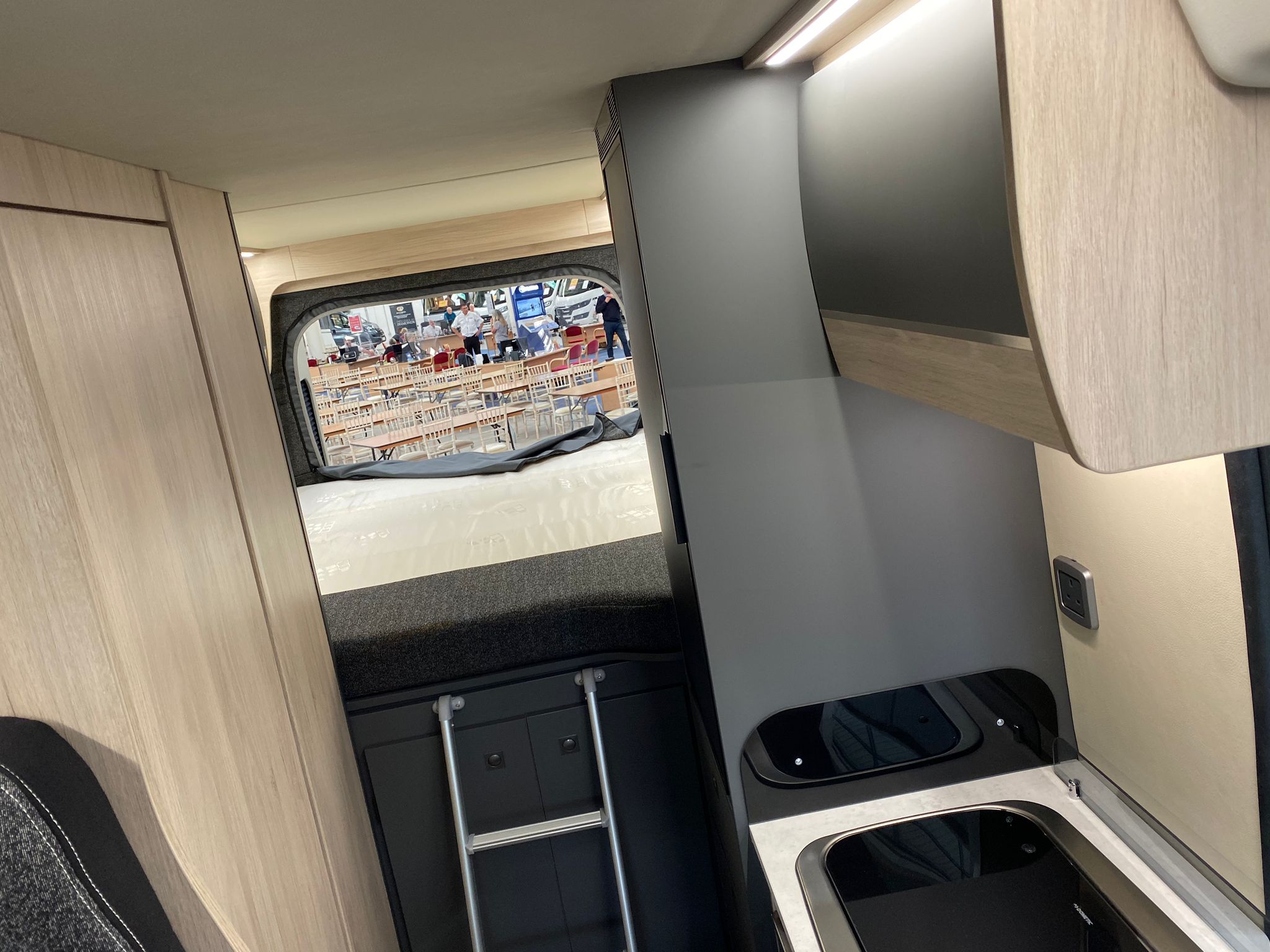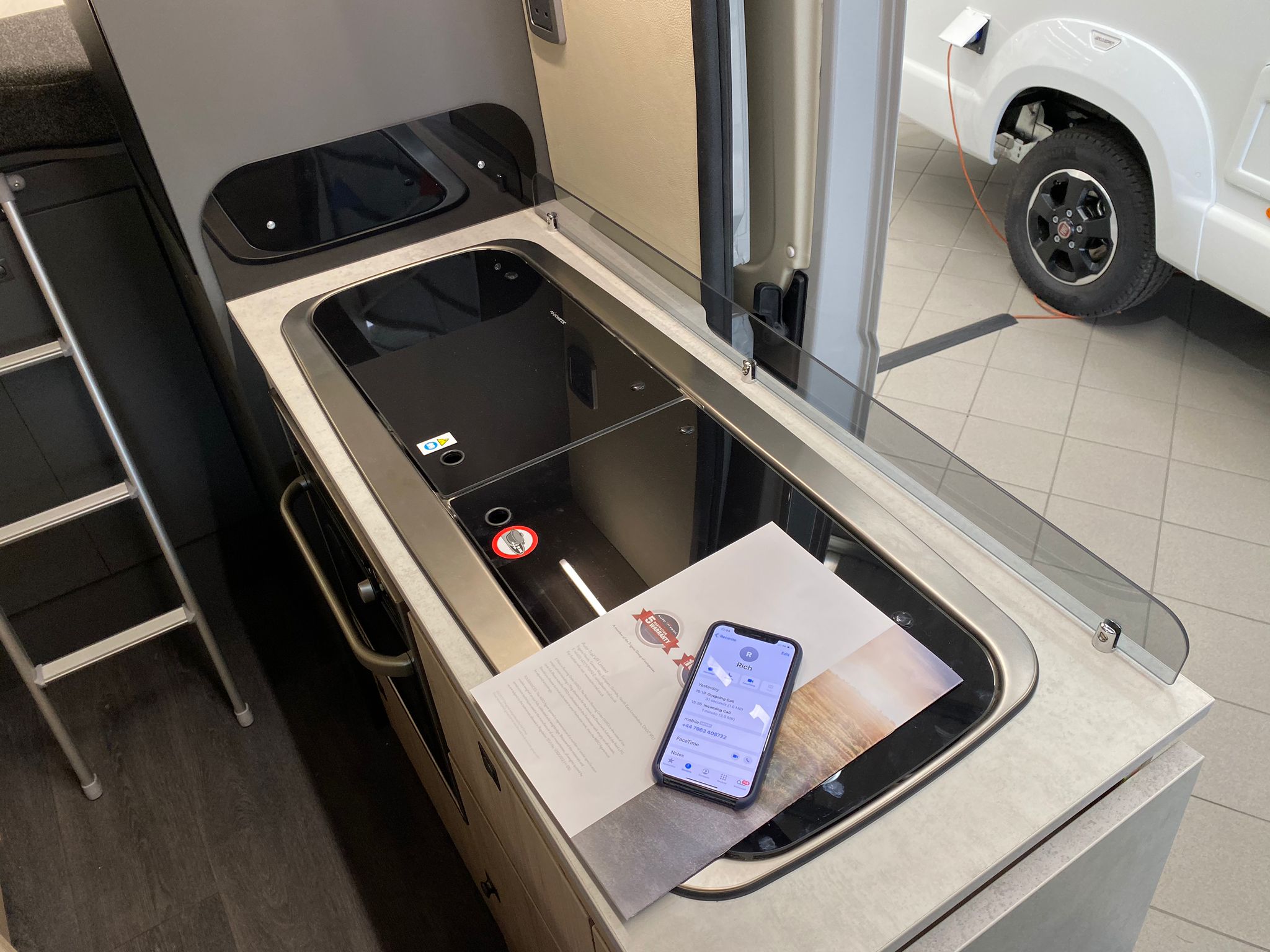 After 38 years in the trade Autotrail admit that this new model is their first foray into what they term "dedicated sports campers" by which they suggest that you can fling motorbikes in the back of this new model. It's one of the best priced of this list and I was pleased to hear that it's specced on the 140bhp model Ducato rather than the base level. Quality looks good and the interior is very tasteful and spacious given their previous legacy of bland, more mature interiors.
Prices from: £42,538
What's to like: the price, a better specced base vehicle, a fresh approach to a purposeful interior
What's not to like: very little at this price point
More info: https://www.auto-trail.co.uk/expedition-68
---
AutoTrail Adventure SS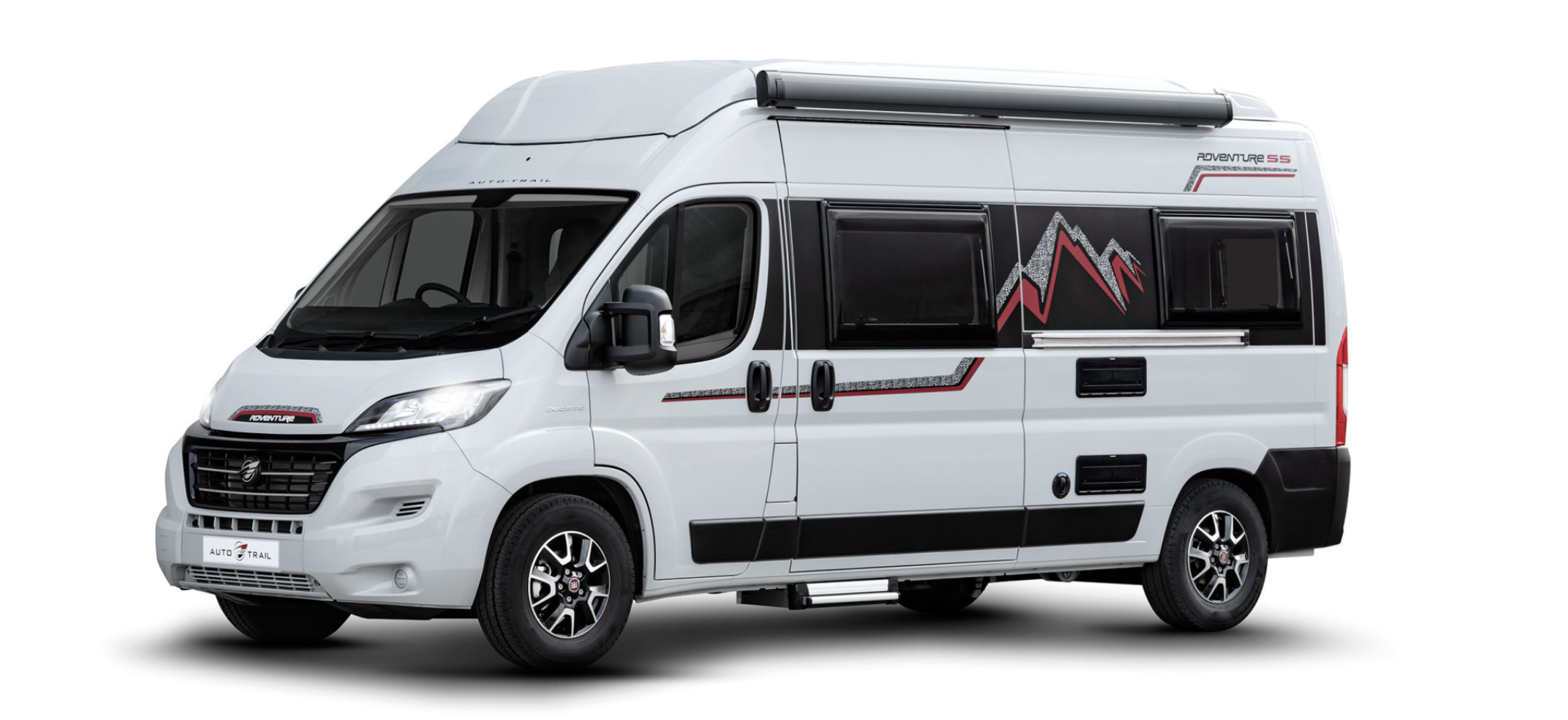 Info as above but with lots of consideration to typical optional extras being included.
Prices from: £61,581
What's to like: lots of typical luxury upgrades included
What's not to like: above average pricing
More info: https://www.auto-trail.co.uk/adventure
---
Westfalia James Cook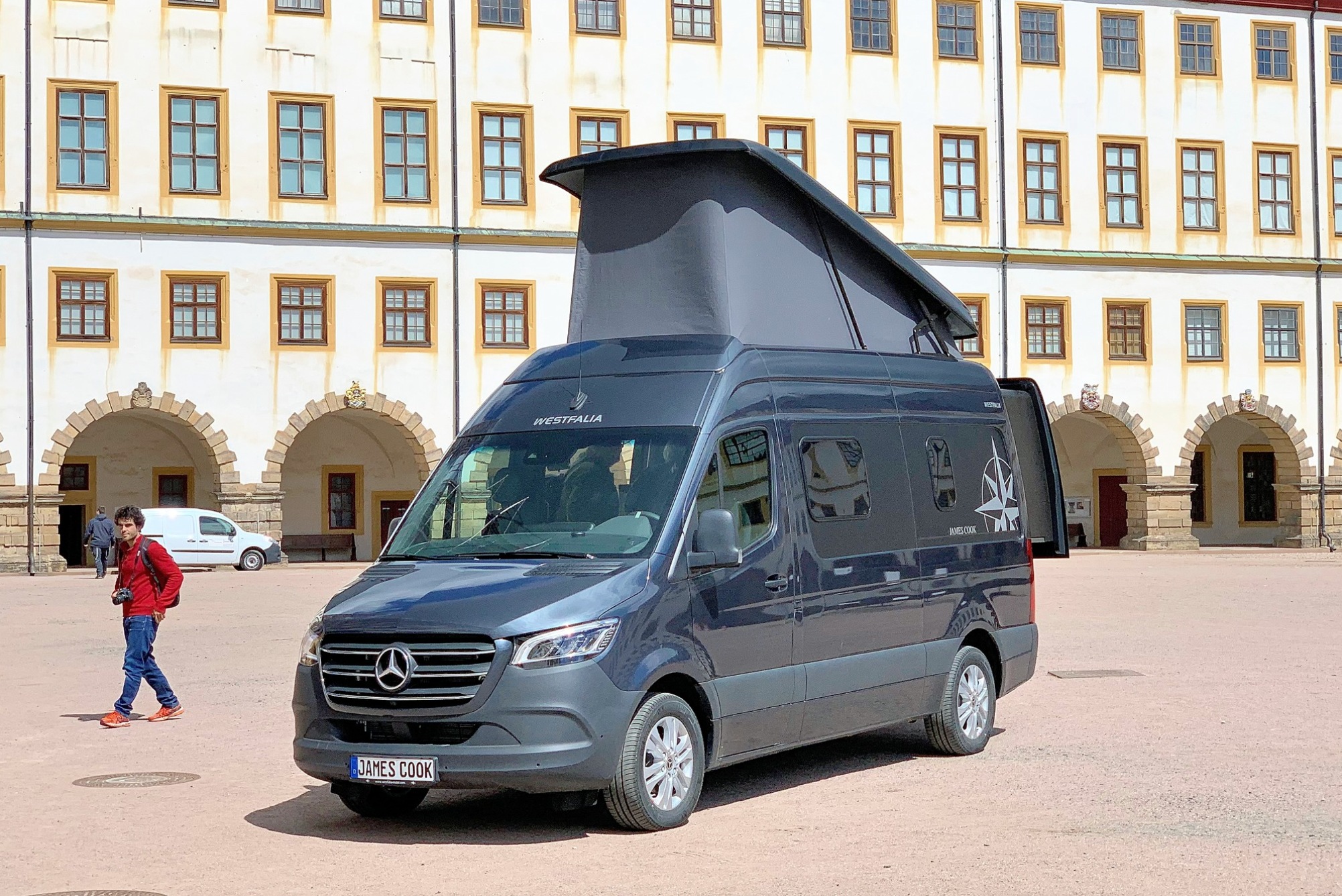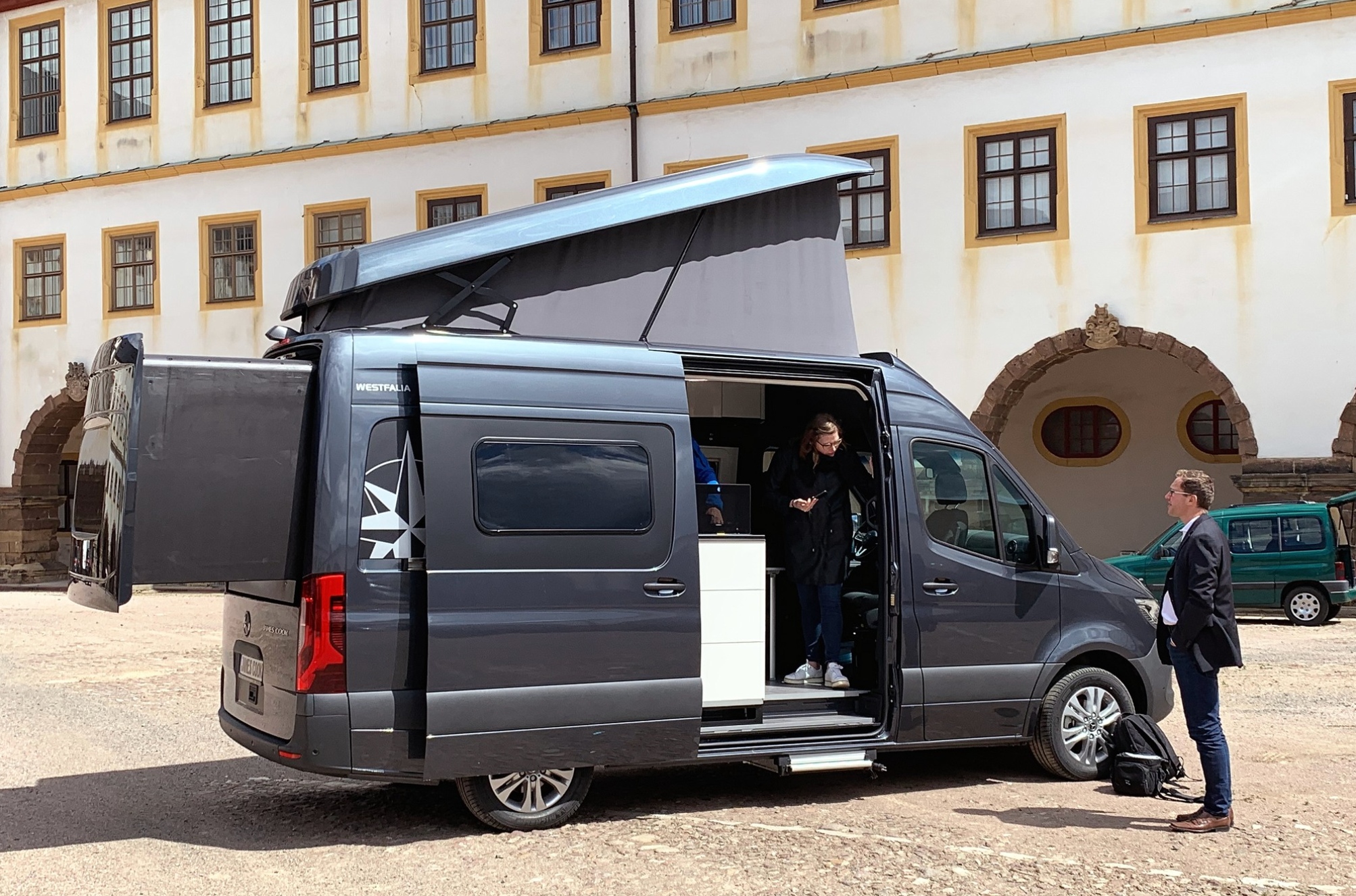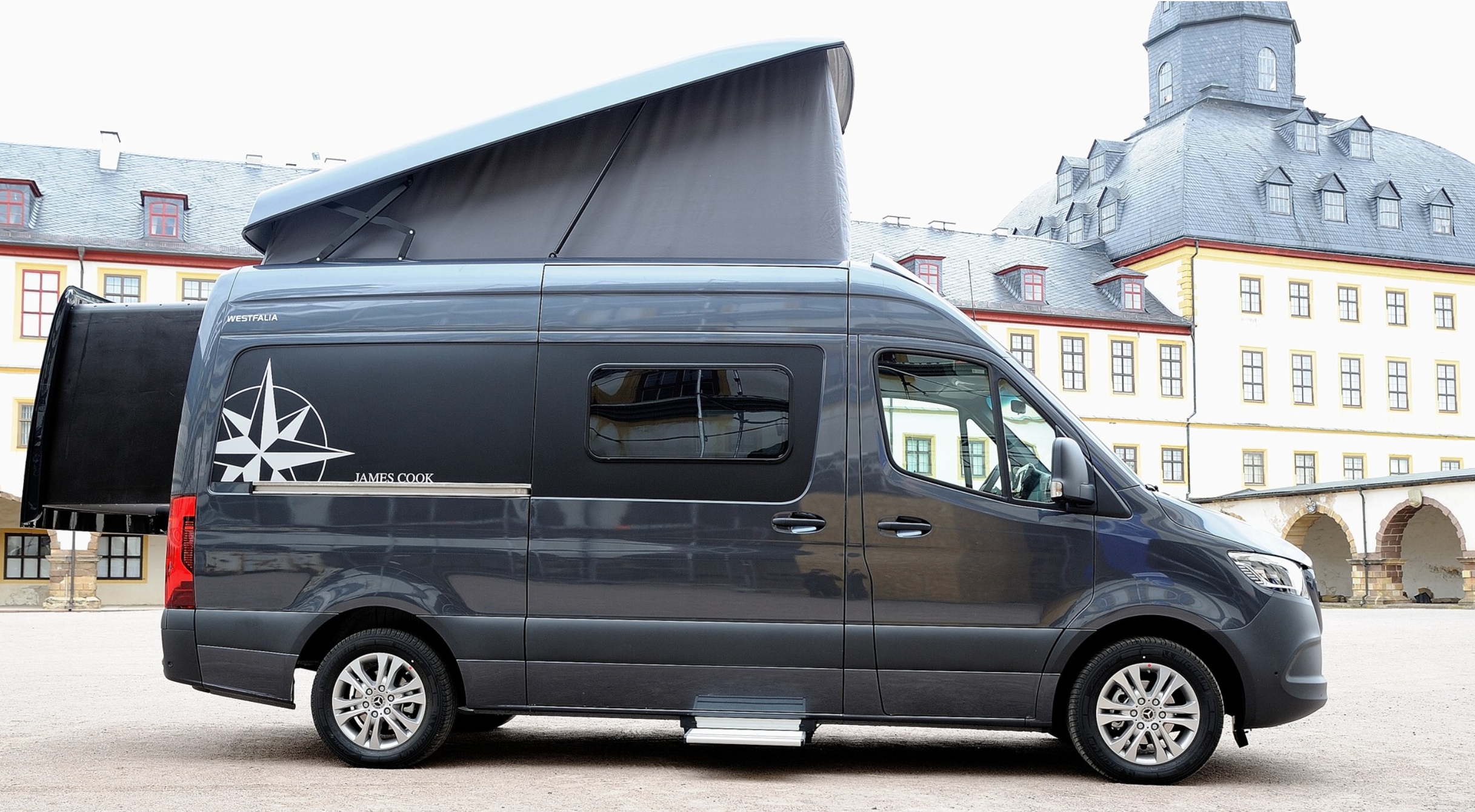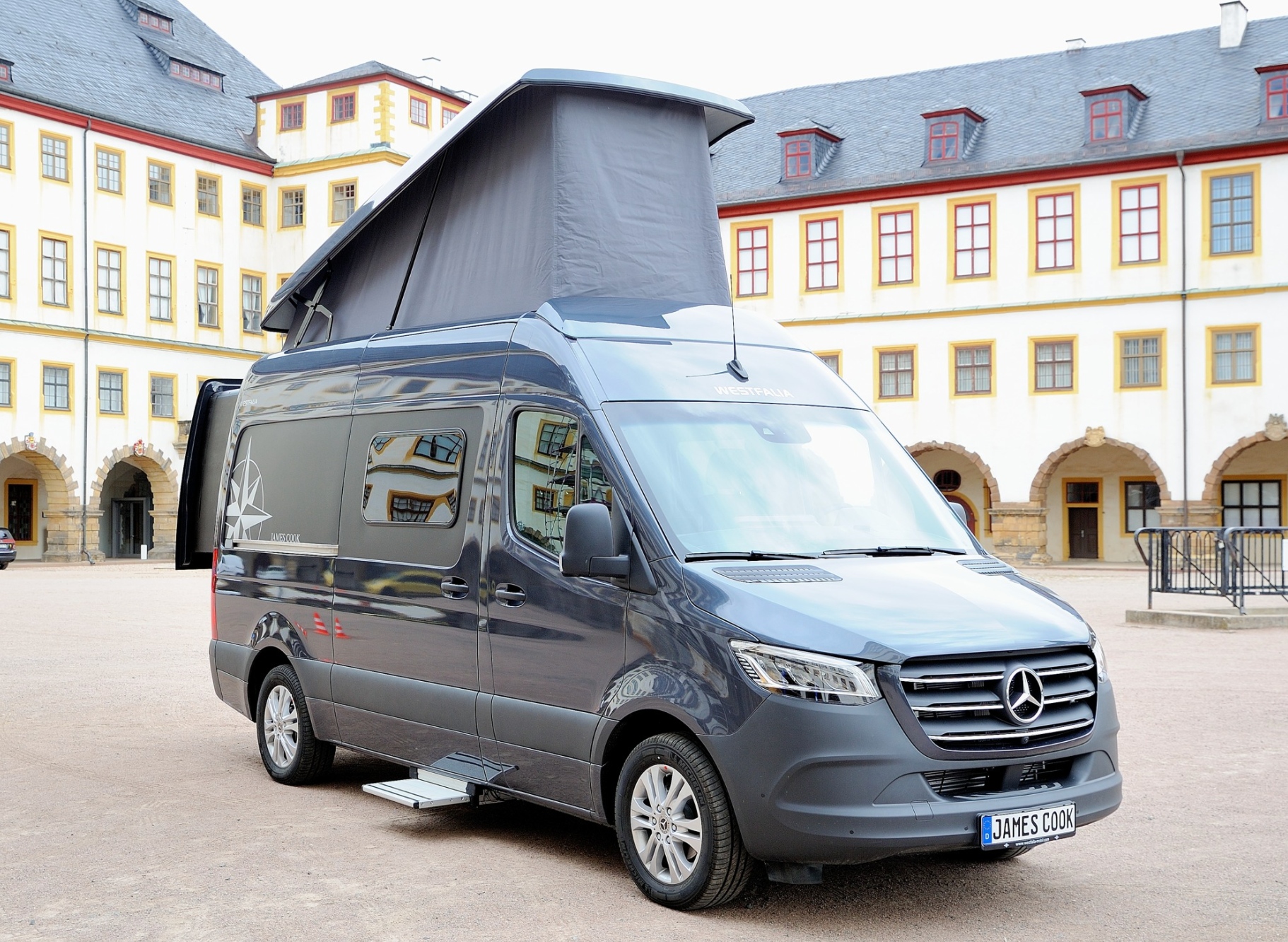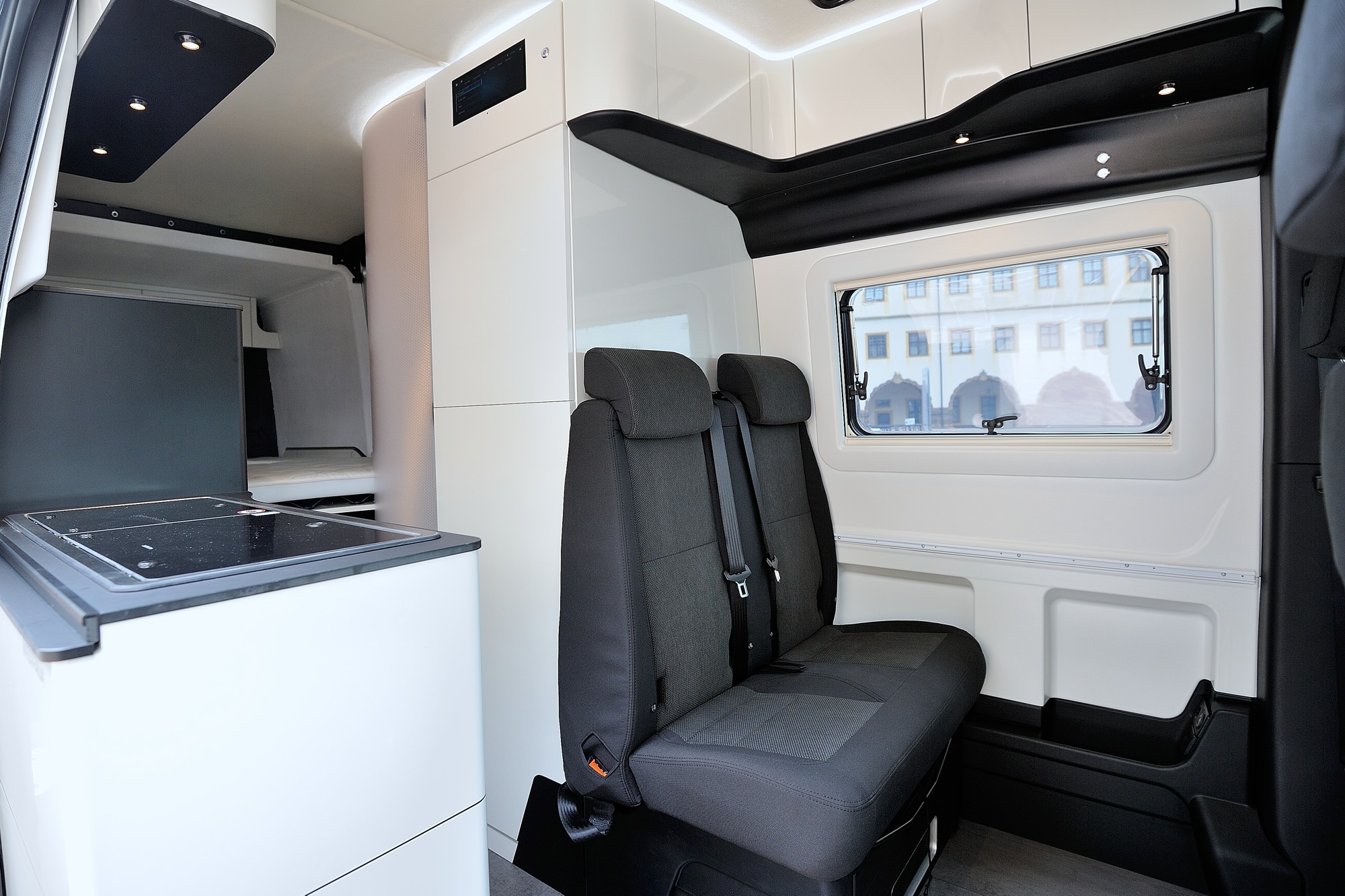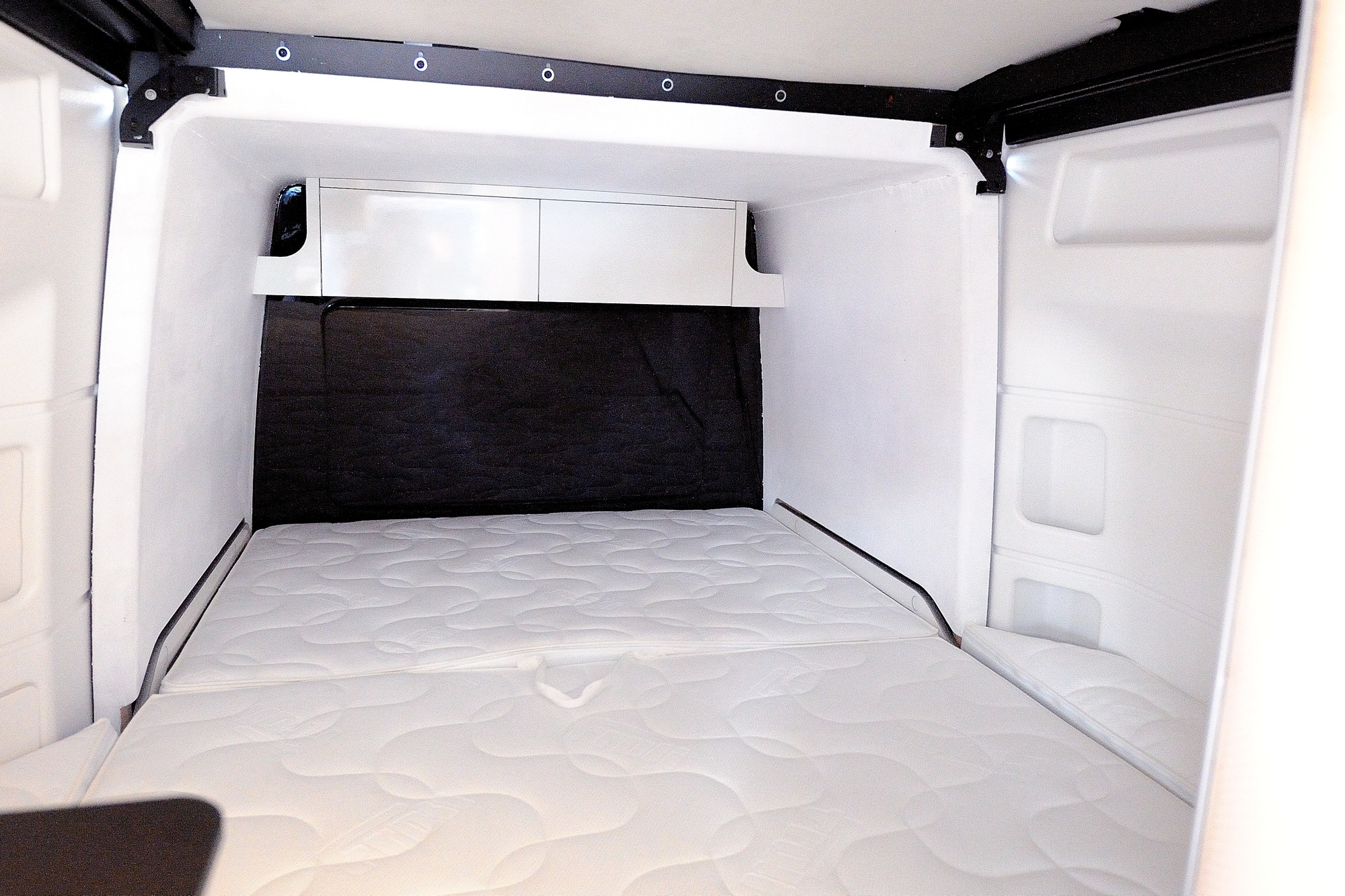 Nice to see a base vehicle other than the Fiat Ducato but, like the VW Crafter, the Sprinter adds more to the base price straight out of the factory. However Westfalia have done it again and offer virtually any option on this preferable base vehicle. If money is no object this is the one to go for. Not only does it give you the most versatility but it pretty much guarantees a loss of depreciation thanks to Westfalia's almost cult status among the affluent #vanlife community, and don't forget that Westfalia were the first to add a pop top to any camper, and it was the split screen VW.
Prices from: £82,000
What's to like: legendary name, legendary legacy, clever ingenuity on this one
What's not to like: starting price point is high, as with all Westfalia models
More info: https://www.westfalia-mobil.com/en/news/2019_james_cook_gotha_engl.php
---
Hymer Fiat pop tops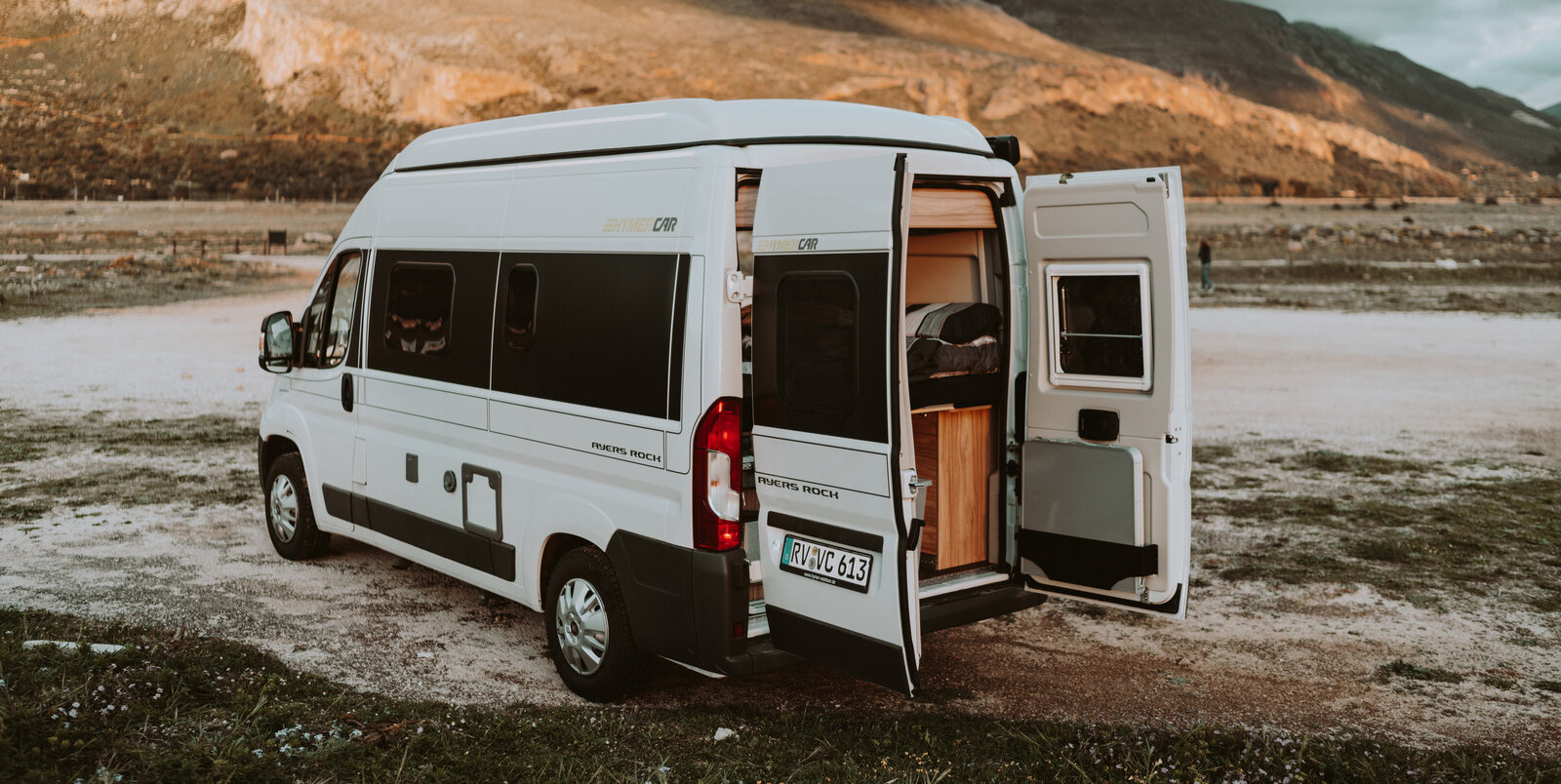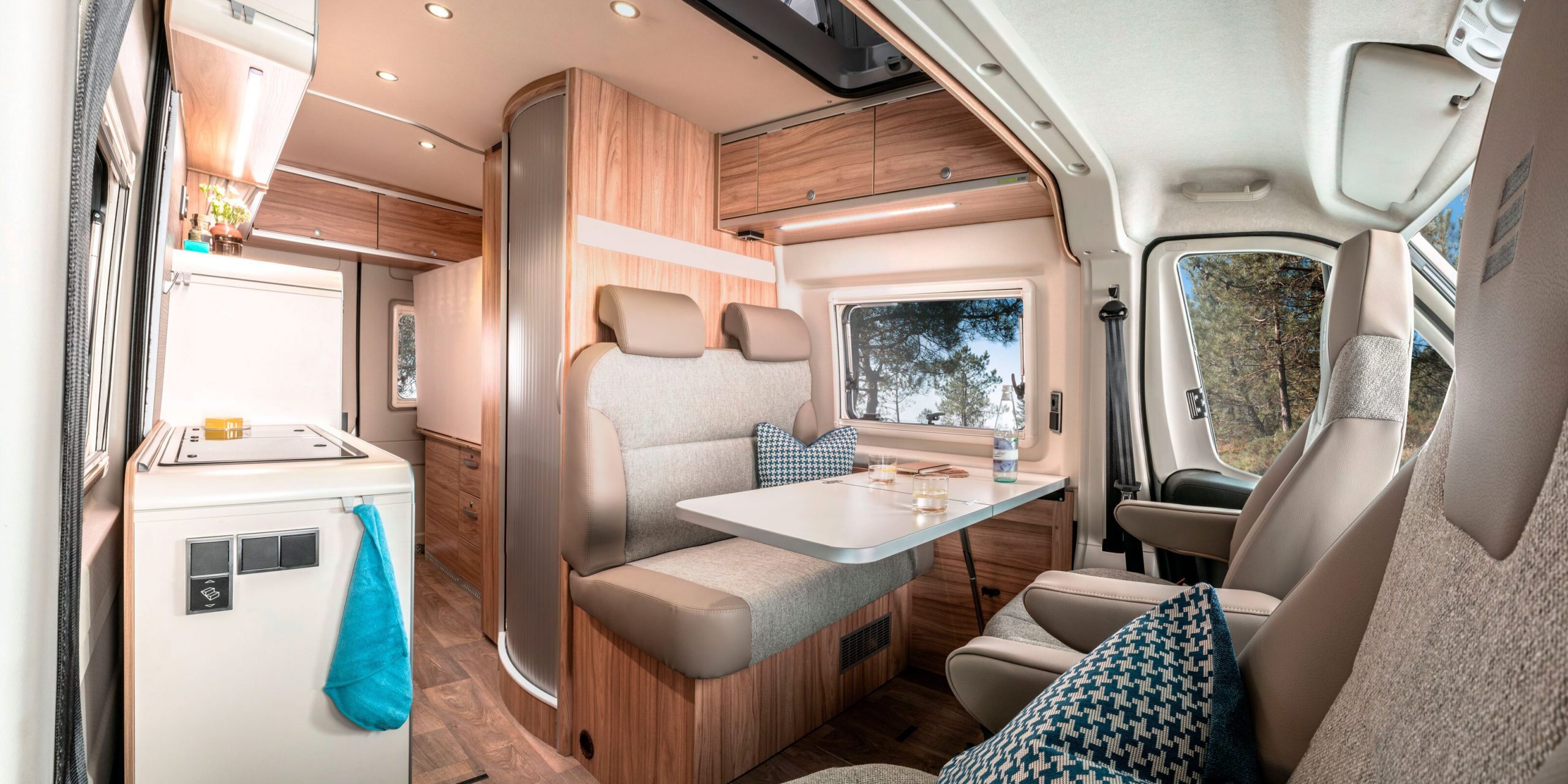 Apparently available on their camper vans since 2013 Hymer certainly speak comfort and luxury and like other well established names in the game they have a great legacy and reputation. Formerly Hymercar Hymer Camper Vans also do Mercedes as a base vehicle but represent the 2 highest price models in the range – a range-topping, eye-watering £90k being the starting price for the latter.
Prices from: £51,570
What's to like: great heritage (although not in campervans)
What's not to like: very little
More info: https://www.hymer.com/gb/en/models/hymer-campervans