Hanomag Henschel Campervan Conversion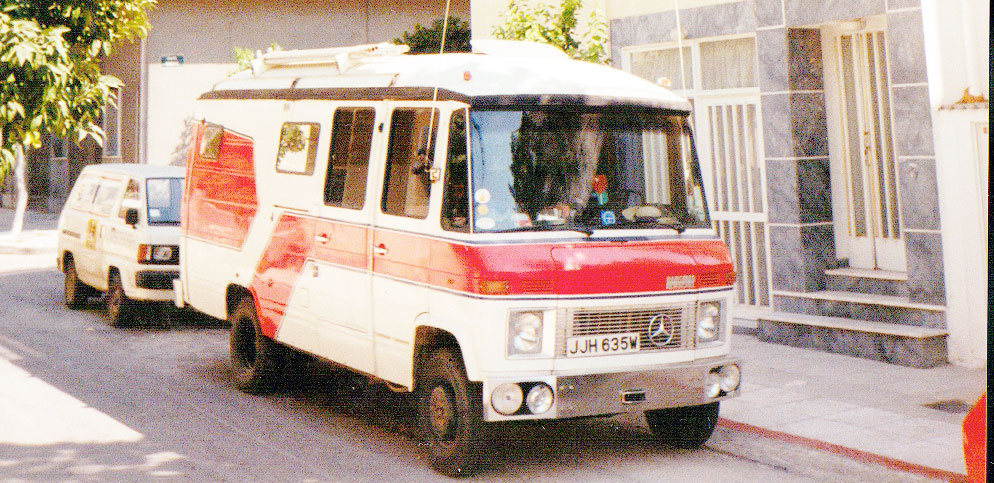 As it dawned on me that I needed to figure out what to do with my life and at the same time leave the family home (for the second time, and for good!) my girlfriend agreed to the purchase of a 'live in vehicle' for the purpose of a good long drive round Europe – you guessed it, for time to figure out what to do with our lives!
The vehicle was found on Autotrader and was a medium wheelbase motorcross van – a 1980 'Düsseldorf van', actually a Mercedes-Benz , with modified front under the name Hanomag Henschel. We drove out to have a look at it, and even with the garage in the back for the motorcross bike we couldn't believe how much vehicle you could buy for the money (£2,800 back in 1993).
My folks lived in a big house with a drive and garage just outside Oxford at the time and it was there that I knocked through into the garage at the back of the van, took most of the rest of it apart, and put it back together again with a double bed and shower room at the back.
This is how I learned what it took to build a home on wheels. With all the plumbing, gas & electrics in place already it was simply a case of extending my DIY skills and ensuring that my work was as rattle proof as possible. It worked (well until we hit Portugal's roads!).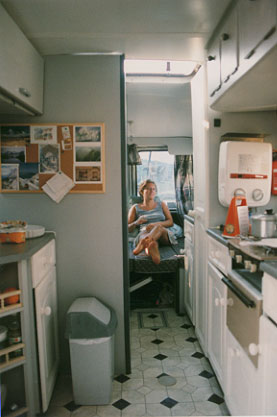 I used grey faced 8' x 4' melamine chipboard for the shower walls and bed base and glued on dark grey edging. As the filler pipe for the enormous stainless steel fresh water tank (which straddled the prop shaft) ran to the centre of the van under the old bench seating I had to fit an access panel in the middle of the van floor and feed the hose through to it each time we needed to fill up.
I fitted 2 new caravan windows into the rear van sides, extended and renewed the rockwool insulation; I wired and plumbed in a new Electrolux fridge (the single biggest cost in most van conversions), put in new rear doors with (mirrored) glass in and resprayed a lot of the exterior by hand with aerosol spray.
The van looked great in white with it's motorcross red stripe down the side. It was a great vehicle to drive – obvious commercial and not quick, but with a great big windscreen to watch the world go by from.
In April 1994 we set off for what turned out to be 5 months around Europe. Yeehaw!