A Guide to LPG Adapters in Europe
There are four different LPG adapters in Europe:
ACME adapter
Bayonet adapter
Dish adapter
Euronozzle adapter
---
ACME adapter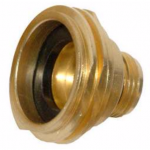 Also known as: ACME thread, ACME connector, ACME nozzle This adapter has a threaded fitting onto which the petrol pump is screwed before the trigger is pulled to establish a seal before fuel transfer.
Found in: Austria, Belgium, Germany, Ireland, Liechtenstein, Luxembourg, Switzerland, United Kingdom
---
Bayonet adapter
Also known as: Dutch Bayonet, Bayonet connector, Bayonet nozzle. This adapter establishes a gas proof seal by a push and twist action.
Found in: Denmark, Norway, Spain, United Kingdom, the Netherlands
---
Dish adapter
Also known as: Italian adapter, DISH coupling, Italian dish, Dish connector, Dish nozzle
Found in: Austria, Bosnia and Herzegovina, Bulgaria, Croatia, Czech Republic, Denmark, Estonia, France, Greece, Hungary, Italy, Kosovo, Latvia, Lithuania, Macedonia, Malta, Montenegro, Norway, Poland, Portugal, Romania, San Marino, Serbia, Slovakia, Slovenia, Sweden, Switzerland, Ukraine
---
Euro adapter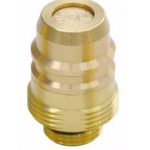 Also known as: Euronozzle, Euro connector.
Found in: Spain
Here's a table of adapters by country:
| | |
| --- | --- |
| Countries | Adapters |
| Austria | ACME adapter |
| | Dish adapter |
| Belgium | ACME adapter |
| Bosnia and Herzegovina | Dish adapter |
| Bulgaria | Dish adapter |
| Croatia | Dish adapter |
| Czech Republic | Dish adapter |
| Denmark | Bayonet adapter |
| | Dish adapter |
| Estonia | Dish adapter |
| France | Dish adapter |
| Germany | ACME adapter |
| Greece | Dish adapter |
| Hungary | Dish adapter |
| Ireland | ACME adapter |
| Italy | Dish adapter |
| Kosovo | Dish adapter |
| Latvia | Dish adapter |
| Liechtenstein | ACME adapter |
| Lithuania | Dish adapter |
| Luxembourg | ACME adapter |
| Macedonia | Dish adapter |
| Malta | Dish adapter |
| Montenegro | Dish adapter |
| Norway | Bayonet adapter |
| | Dish adapter |
| Poland | Dish adapter |
| Portugal | Dish adapter |
| Romania | Dish adapter |
| San Marino | Dish adapter |
| Serbia | Dish adapter |
| Slovakia | Dish adapter |
| Slovenia | Dish adapter |
| Spain | Bayonet adapter |
| | Euronozzle adapter |
| Sweden | Dish adapter |
| Switzerland | ACME adapter |
| | Dish adapter |
| Ukraine | Dish adapter |
| United Kingdom | ACME adapter |
| | Bayonet adapter |
| the Netherlands | Bayonet adapter |